Nearly two decades after they were first staged, The Vagina Monologues still inspire conversation and controversy. Those stories have also managed to incite an entire movement. Having hijacked Valentine's Day, V-Day now sprawls over three months – from February through to April – and during that period thousands of events across the globe spread awareness and raise millions of dollars in aid of ending violence against women and girls.
This year, V-Day comes to Sri Lanka for the first time as the Grassrooted Trust stages another collection of monologues edited by Eve Ensler who along with Mollie Doyle published "A Memory. A Monologue. A Rant and a Prayer: Writings to End Violence Against Women and Girls". A different focus and the inclusion of male voices help set this collection apart from The Vagina Monologues, say Anuruddha Fernando and Hans Billimoria. Serving as both directors and actors in this production, the two help make up a cast 13 strong; included among them is Hans' wife and partner in the Grassrooted Trust, Gayatri Natrajan.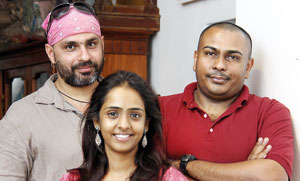 From Lto R: Hans, Gayatri and Anuruddha. Pix by M.A. Pushpa Kumara
Two weeks before the staging of the Monologues, we catch up with the trio at the play's venue – The Barefoot Cafe. We're talking about domestic violence in Sri Lanka and the way society views it when Hans declares "I call it pseudo-conservatism." He believes that Sri Lanka is burdened with its fair share of cases of sexual abuse and domestic violence, but that the silence of society at large indicates that we're determined to ignore it.
He seems equally determined to ensure that we aren't allowed to. "We always think this is something that happens in rural communities, this happens in provincial towns, we think that for the educated classes, this isn't an issue," explains Hans, adding that it is increasingly clear that these are familiar problems even in the homes of our most affluent citizens. Having conducted a series of workshops with 10 institutions in Colombo in collaboration with the Rotaract Club of Sri Lanka, Hans shares his shock at what he discovered. Speaking with young, educated urbanites between the ages of 18 – 25, he found a significant population actually supported a man's use of force on his wife, but that this support came from the women as well amazed Gayatri. "The inherent patriarchy of relationships blew us away," says Hans, "our workshops were the impetus for the play."
Anuruddha opines, "You know there's something wrong, but nobody talks about it." Indeed, inspiring a little conversation and some mild "disruption" in the orderliness of popular assumption seems to be their primary goal. Hans describes the production as simple and minimalist – designed so that the Monologues take centre stage. Speaking of the script, Gayatri says the play's title is revealing: "All of these pieces are one of these things - either someone recalling something that happened to them in the past or they are ranting about something or they are saying a prayer that this never happens to anybody else." Ranging from a journalist who remembers meeting two prostitutes in Vietnam to a young girl's encounter with a lecherous football coach and on to a story about a near gang rape, each Monologue presented its own challenge to the actor delivering it.
Ashini Fernando, Anuruddha, Dilrukshi Fonseka, Gayatri Natrajan, Hans, Marsh Dodanwela, Neidra Williams, Pia Hatch, Rajinda Jayasinghe, Revati Chawla, Sean Amarasekera, Shanuki de Alwis and Venuri Perera will each take their turn, and their directors say they're very pleased with what each performer has brought to their role. Each piece could have been turned into a melodrama, but it hasn't says Hans, adding later that their actors have required practically nothing in the way of direction. Still, choosing 13 monologues out of the 60-70 options provided wasn't easy, Anuruddha reveals, explaining that they were looking for stories that were relevant to the Sri Lankan experience. They also wanted strong male voices. If there's a problem, it is that "there is still more than we would like of an American flavour," says Hans, "but I reckon we found a nice balance." With their characteristic searing honesty and humour, The Monologues "are not all dark, there are some lighter moments also," he says, "you have to laugh at how bad it is." The trio envisions this year's events as the first in an ongoing series. Next year they hope to find Sri Lankan stories that a local audience will relate to better.
The proceeds of the evening will be directed towards the Sunila Foundation in Polonnaruwa and the Shelter for Women and Children who have been subjected to gender-based violence run by the Women's Development Centre in Kandy, say the organizers. The two beneficiaries were selected by the Forum against Gender Based Violence and approved by the V-Day committee. Hans and Gayatri, who are both passionate advocates for women's rights, reproductive health and sex education, have ensured their priorities are reflected in the principles of the Grassrooted Trust (http://grassrooted.net).
Returning from India in 2009, Hans and Gayatri dived right into work and plays.Having known him since school, Anuruddha got Hans involved in staging Pusswedilla and the two are clearly a team. They see their latest venture as a fantastic opportunity to get some conversation going on an important subject: Standing for the rights of women and children, and against domestic violence and sexual abuse.