A portrait of Sri Lankan resident, writer Royston Ellis, has been hung at the National Portrait Gallery in London. The portrait forms part of an exhibition of photographs by the bohemian photographer, Ida Kar.
Ida Kar, who died in 1974, was famous for her photographs of such people as Marc Chagall, Bertrand Russell and T.S. Eliot.
The photograph of Royston Ellis was taken in 1960 when Ellis was known as a beat poet and performed his poetry to backing by musicians such as Cliff Richard's Shadows, the Beatles and guitarist Jimmy Page. He settled in Sri Lanka in 1979.
Royston Ellis visited London from Sri Lanka for the opening of the exhibition and is seen here with Jimmy Page of Led Zeppelin in front of his 1960 portrait. The exhibition is open to the public until June 19, 2011.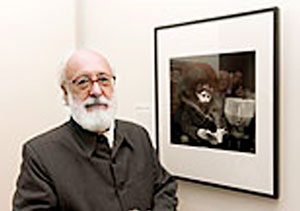 In front of his portrait at the gallery