Four seats in a room hazily lit with a red light casting an eerie glow beckon and in a moment one is transported back in time to an era when black and white movies were in vogue. A private cinema, in a part of a house off the Colombo-Kandy Road close to the Indigahamulla Junction at Kadawatha!
Crammed into every nook and corner of a major part of the house are an assortment of anything and everything to do with the silver screen since its very beginnings in Sri Lanka.
Audio and video equipment, projectors, reels, posters, books with songs from films, show cards et al……you name it and 47-year-old Hemapriya Kandambi has it. From him flows words of wisdom about Sinhala cinema, while he fidgets with a gramophone to get a blast of a song from Kadawuna Poronduwa or inserts a reel to put us in a time-warp.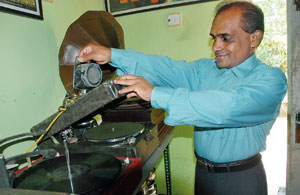 Mr. Kandambi with his collector's items. Pix by M.D. Nissanka
"Everything here is in working condition," says Mr. Kandambi whose passion for films began with the weekly singing sessions that he was part of in his childhood at Hikkaduwa. His father being a singing teacher, his nendala and mamala (aunts and uncles) used to gather around a serpina in his home long years ago.
The passion was sparked when he also heard songs of films on the radio and on the gramophone that his father cherished. Soon after his Ordinary Level, he was drawn to drama and joined Gamini Haththotuwa's street plays, later relocating to Colombo and securing a small comic role in the movie 'Jaya Kothanada' produced by Somaratne Ramanayake.
"The main role was played by Ranjan Ramanayake," he says, adding that thereafter he worked as an Assistant Director on another movie.
It was as an open-mouthed, goggle-eyed seven-year-old schoolboy that he sat enthralled watching the tragedy of 'Patachara' unfold at a benefit show at Bodhiraja Maha Vidyalaya at Thiranagama. "It was the very first film I saw," he smiles, adding that although he was not able to buy that movie, he purchased the two projectors on which it was shown in 2000.
The collections of gramophone records began as a child and the first film reel he "possessed" at a price in 1997 was 'Rahasak Nethi Rahasak' directed by N.V. Balan. There has been no turning back.
Suddenly there is a blast of sound, for Mr. Kandambi has put on a song from Muwan Pelessa, a popular series which kept many gathered around the radio in the 1970s, after which a powerful voice from the past can be heard detailing the achievements of his government from another room. It is the voice of the silver-tongued orator, S.W.R.D. Bandaranaike, now no more, while he was Prime Minister in the 1950s.
After awhile, the Sunday Times team is treated to several "free shows". Here's the first Ross projector used in Sri Lanka way back in the 1930s, says Mr. Kandambi touching it tenderly. "It was imported by the Gardiner family."
Then there is an 8 mm projector used in England in the 1920s but later brought to Sri Lanka. Mr. Kandambi holds forth about the humble beginnings of cinema. "It all started in churches in France when what they called the Magic Lantern was shone on glass slides to project the sketches drawn on the slides on the wall," he says, explaining that it was followed by the use of still cameras with large negatives. Then came the Charlie Chaplin movies in the US in the early 1900s projected on a 16 mm projector, followed by a "box-like thing with two eyes" for three-dimensional portrayal.
Benefit shows in Sri Lanka were shown using a Russian-manufactured 35-mm projector, according to him, where the reel had to be changed. He also has in his possession an "extinct" 70 mm projector with a magnetic and optical sound track where the film can be viewed on a huge screen.
Editing machines are also vital, the Sunday Times understands. Mr. Kandambi details the procedure – a film is shot on location and in the studio sound, dialogue, effects, music and songs from different tracks are mixed into one track.
Mr. Kandambi's quest made him not only to scour the bothal-paththara kada (boutiques buying and selling old newspapers and bottles) in Pettah but also travel to far off places such as Polonnaruwa and Anuradhapura looking for knick-knacks linked to the film industry.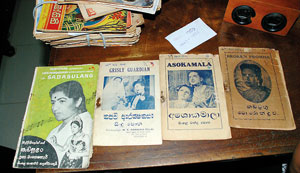 Old programmes from his collection
"The gramophone embedded in a box which doesn't need electricity but is operated manually was found outstation in a walauwwa," he says.
On his journeys in addition to film stuff including newspaper articles he also collects political leaflets and posters, radios, cameras, spool sets, telephones, bus-tickets and currency notes, so much so that stuff is stored even atop the ceiling of his home.
Mr. Kandambi who opens up his "museum" to researchers and students free of charge earns a living by renting out some of the old movies. Commending his wife, Jeya Menika, without whose support and understanding he would not be able to store all this stuff in a major portion of his house, he says maintaining it takes up all his time. He dusts everything and keeps rewinding each of the 80 film reels and 400 trailers every six months to keep them in running order. He rattles off what he has – 'Siriyalatha' produced in 1957 by Rukmani Devi and Eddie Jayamanne, all songs of 'Kadawuna Poronduwa' produced by B.W.A. Jayamanne in 1947, posters on all the Sinhala films amounting to 1,126….
The offers have been many asking him to sell this treasure trove, but Mr. Kandambi is adamant. "I want to safeguard this precious collection." Training his 14-year-old son to follow in his footsteps by cleaning these antiques, he wishes only for a larger place to house and display them systematically with a small cinema too where the past can come alive.
Mr. Kandambi's ardent desire is to form a Trust or Foundation which will protect these treasures for posterity.