A journal published in the 1950's recorded the deaths of 50,605 children under the age of five, in just one year.
It was against a similar backdrop that, defying all social norms Sri Lanka's first 'Baby Doctor' decided that she would abandon her plans for an Honours degree in English Literature in favour of becoming a student of medicine. In Manouri Senanayake's new book Eight Portraits- Women in Paediatrics, Grace Kumarakulasinghe nee Sinnathamby- now 103 years old- remembers with remarkable clarity the course her life has taken since.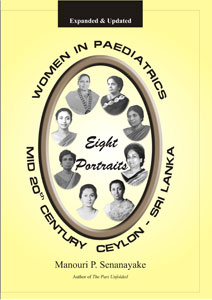 Narrated through a series of engaging anecdotes of Grace Kumarakulasinghe, Stella De Silva, Priyani Soysa, Rajeswary Rajakariar, Philine Peiris, Nellie Fernando, Jasmine Nanayakkara and Kamalika Abeyaratne, the story of paediatrics in Sri Lanka unfolds, leaving the reader inspired, interested and grateful to these pioneers for their dedication in improving the quality of life of thousands of children.
Eight very different women. Some- like Philine Peiris (as she chided her elder sister with the words "You be my nurse because I am the Doctor) knew that medicine would be their chosen career.
For others, it was a process of realizing that no career would suit them better. None of them have looked back since, no matter how hard their challenges have been.And this is what forms the theme of Eight Portraits. Manouri Senanayake has effectively pointed out the fact that in an age where women encountered a series of impediments in breaking into the work force, these eight women stood their ground and saw their plans through.
Most poignant is the easy anecdotal tone of the book which not only informs the reader but inspires with its illustration of each character. In each personality there is determination; sometimes quiet, sometimes outspoken- as in the case of Kamalika Abeyaratne.
Each woman had to deal with some form of adversity. From 72 hour work shifts to debilitating illness and repressive attitudes, the poise with which these doctors took problems in their stride, and the impact they made on the people around them, strikes a chord.
Alternating between first hand recollection and that of the friends and families of each lady, the book makes for interesting reading not just for those of the medical profession but for lay readers as well. It nostalgically captures a period in our history which few people remember; and would soon be forgotten if not for such recollections as those given in the book.
Drawing on a great deal of research, Senanayake also recreates a picture of the status of healthcare for children as it has evolved over the past century. It follows a period of time in which babies were identified as mature or premature based on weight, and opium leaves were crushed and fed to children struggling with the problem of Miosis, otherwise known as pinpoint pupils.
Detailing the evolution and progress of paediatrics and the medical profession in Sri Lanka, Eight Portraits leaves the reader wondering how things would have worked out without the hard work and perseverance of the first women in paediatrics.