The Royal College Table Tennis team recorded a fine win over Maliyadeva College Kurunegala by defeating them 3-2 to bag the Under 19 A Division All Island Inter-School team championship at the All Island Inter-School TT Tournament at the S. Thomas' Sports complex. The competition was conducted by the Schools Table Tennis Association.
The champion team included Vindula Ganegoda (Capt), Samitha Abeyratne, Kulanka Hendahewa, Himasha Ranathunga and Sarinda Malawige.
Royal TT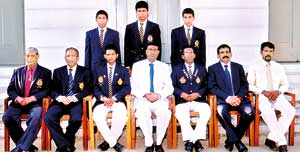 The Champion Royal U 19 TT team: (Seated from Left to Right): Mr. N.H. Perera (Coach), Mr.M.T.A. Rauf (Senior GamesMaster), Vindula GAnegoda (Capt), Mr. Upali Gunasekera (Principal). Samith ABeyrathne, Mr. G.D.S. Keerthisena (Vice Principal), Mr. M. Jayalath (Master-In-Charge). (Standing from Left to Right): Sarinda Malawige, Himasha Ranathunge, Kulanka Hendahewa.