Oshada Fernando (18) of St. Sebastian's College, Moratuwa is one of those cricketers who has the born talent to go for big knocks. The lad from Panadura who had the most humble beginning in cricket would have never thought that one day he will be that hero for the St. Sebastian's.
Oshada who completed the milestone of 1000 runs for the second consecutive year performed bigger accomplishments and bettered records that were almost double his age. He anchored with an unbeaten 129 to help St. Sebastian's win their annual big match against Prince of Wales' after a long wait of 45 years. Soon after he clobbered an unbeaten 72 to help St. Sebastian's successfully chase a formidable target of 280 runs in their annual limited overs encounter.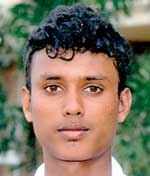 Oshada Fernando
"These performances will be the most memorable innings that I will cherish in my life. I am now part of history that will be spoken of some day with pride of breaking a four decade long jinx. In addition there is a venue record. St. Sebastian's have not won at De Zoysa Stadium for the past 34 years and this also broke a three decade long record," said Oshada who seemed to be proud of his accomplishments.
Apart from these two unexpected records Oshada came into the big match well prepared after a record breaking knock of 235 not out against Holy Cross College, Kalutara a few weeks back.
"The previous double ton had come in 1976. Susil Fernando had scored an unbeaten 215 then and I'm now the holder of that record too," Oshada said with delight. The young cricketer who used to never miss a cricket match on the television made his mark at the age of 10 when Oshada told his father that he wants to play cricket seriously.
Oshada's father who is naturally a sports lover prompted on his son's keenness to play cricket and enrolled him into a cricket academy in Panadura. A young coach had seen Oshada strike his bat elegantly and the inexperienced youngster was called to play for the junior cricket of Sri Sumangala College, Panadura.
"I was the youngest among the bigger boys and I continued to play with them without showing much of a pressure. While the team had much big boys the coached named me as the captain of the under-13 team and I also captained the under-15 team before being invited by St. Sebastian's College to further pursue cricket," the elegant stroke maker recalled.
After the change over Oshada's cricketing career began to flourish with the worthy tips and training he received by his long list of coaches. So far the young and elegant opener had played four seasons for St. Sebastian's and have accomplished his goals in style.
"Last year my tally was 1170 runs in 19 matches inclusive of three centuries and seven half centuries. This year I achieved 1141 runs in 17 matches with a double hundred, two centuries and four fifties. But my initial target was to reach 1400 runs. Usually I'm an opener but this year I came in as the No.4 batsman because I had to give room for my replacement in the coming years. I'm happy to bat at any position in the top order through I love to open batting. However what better way to sign off a school cricket career as I have done. I'm extremely happy with what I've achieved," Oshada who is looking forward to open for Sri Lanka said. (Pix by Ranjith Perera)