Senior Valparaiso University administrators were recently pleased to welcome its first ever Lankan recruiter to its campus located in Valpariso, Indiana a suburb of Chicago - the third largest city in US. Priyanthi Dissanayake, Managing Director and CEO of Scholarships for USA (Pvt) Ltd - Sri Lanka's number one independent student recruiter to US - had a series of meetings with Valpo's key officials, interacted with students and took a tour of campus culminating in a signing ceremony initiating the partnership.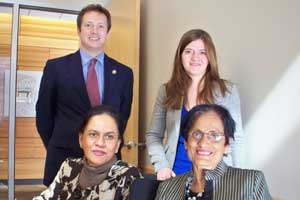 Priyanthi Dissanayake (www.scholarshipsforusa. com) after signing MOU with Valparaiso University in the suburbs of Chicago - third largest city in US - in the State of Indiana. Representing Valparaiso University were Dr. Renu Juneja, Associate Provost, Timothy Tesar, Director of International Enrollment and Laura Groth, Office of Graduate Studies.
Valparaiso University is looking forward to partner with Scholarships for USA (Pvt) Ltd to recruit top-quality students from Sri Lanka starting in the Fall, 2011 semester and to see Valpariso too becoming a household name in Sri Lanka in the near future. Priyanthi Dissanayake is credited with making hitherto unknown schools in US Midwest overnight popular in Sri Lanka due to her passionate and sustained promotions across the Island.
Scholarships for USA (Pvt) Ltd. is a recognized leader in Sri Lanka for recruiting the best students in the Island for a selected group of US universities who partner with them. Unlike many other Lankan recruiters Scholarships for USA only work exclusively with US schools. In just ten years of existence Scholarships for USA has popularized United States as the most affordable and the highest quality higher education provider for Sri Lankans across the tiny Indian Ocean Island. Operating from home and travelling to US each summer Priyanthi has also promoted Sri Lanka to US institutes from Montana to North Dakota to Ohio to Illinois as one of the most attractive countries for US education exports. Solely due to her efforts many US universities and Colleges are now realizing the potential for collaborations with Lankan institutes bringing both countries increasingly closer.
Valparaiso University is a comprehensive, private, selective university founded in 1859. Its diverse student body includes more than 4,000 students from most U.S. states and more than 45 other countries. In addition to its expansive undergraduate programmes, it also offers more than 40 Master's degree programs and has its own School of Law. Its academic programmes are accredited by the highest bodies and it ranks among the top five universities in the Midwest Region by US News and World Report.
Valparaiso is also among the 15% of U.S. colleges and universities featured in the annual Princeton Review. Its location combines both safety and access to a myriad of cultural opportunities. As already mentioned its location in Valparaiso, Indiana, a city of approximately 31,000 residents provides international students with safe and friendly environment and being a suburb of Chicago, Illinois, the third largest city in the US it also provides them with the best of both worlds.
Please visit for more information: http://www.valpo.edu/admission/whyvalpo.php.