Asia Pacific Institute of Information Technology (APIIT) was the Official Higher Education Partner of the 20th Interact District Conference held at the St. Joseph's College auditorium recently.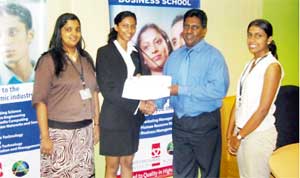 APIIT officials present the sponsorship package to Int. Naveka Karunaratne - District Conference Chairperson.
The Interact District Conference is an important annual event organized by Interact clubs of the Interact District 3220 Asia Zone VIA Sri Lanka comprising a membership of over 100 school based clubs in Sri Lanka with an active membership of 5000 young individuals. The Interact club is a Rotary sponsored non-profit oriented service based movement that brings the youth of a nation together in the age group of 12-20 years.
The activities of the Interact Club provides opportunities for youth to be constructively occupied and mature into responsible adults with the ability to accept the varied challenges they will encounter in their endeavours in the future. Interact also promotes leadership skills and opportunities to meet new friends.
The 20th Interact District Conference has the participation of over 1000 Interactors from Colombo, Kandy, Galle, Matale, Jaffna and other newly formed clubs. This Interact year has witnessed an expansion of Interact Clubs within all ethnicities of our country, and the theme of the event was "Transcending Barriers, Bridging Cultures": Going beyond boundaries in order to create an atmosphere of understanding and unification in all cultural aspects.
APIIT Sri Lanka was established over a decade ago in partnership with APIIT- Malaysia and Staffordshire University, Britain, with the objective of promoting quality and diversity in higher education through global partnerships. APIIT offers the widest choice of Internal British Degrees in Computing, Applied IT, Business Management and Law awarded by Staffordshire University at its state- of- the- art APIIT Campuses in Sri Lanka. Students are treated to all the facilities that are available in Britain itself.
APIIT Campuses consist of state- of- the- art facilities such as modern lecture theatres, computer laboratories with the latest technology, a well equipped library with access to digital libraries, moot court, tutorial rooms, syndicate facilities and an entire floor dedicated for a café and student recreation area. As Sri Lanka's premier higher education institute APIIT has continued its association with this annual event to support the endeavours of future leaders of our country.