The Ladies' College Department of Vocational Studies held their annual Awards Day Ceremony on March 4 attended by Mrs. Priyanthi Seneviratne, Principal, Asian International School, as Chief Guest. Dignitaries from Ladies' College who were present on the occasion were Mrs. Nirmali Wickremesinghe, Principal; Mrs. Eesha Speldewinde, Vice Principal, Mrs. Mala Salgado, Director, Department of Vocational Studies; Rev. Sydney Knight, the school chaplain; the Board of Governors and Mrs Shiralee Hallock, President, Old Girls' Association.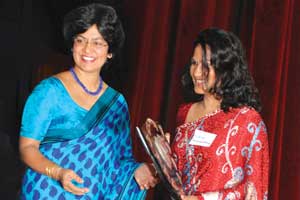 Mrs. Priyanthi Seneviratne presents Rekha Karunaratne with the Challenge Shield for Best Pre-School Teacher Trainee
The Ladies' College Department of Vocational Studies which pioneered vocational education in 1981 celebrates its 30th anniversary this year. When, in the late 1960s, for the first time, Sri Lanka became aware of the importance of vocational education for national development and as a solution for unemployment, it was Miss Olive Hitchcock, the then Principal, who initiated secretarial and typing and stenography courses at Ladies' College.
Later, this idea was expanded on by Mrs. Sirancee Gunawardana, the succeeding Principal, to include a number of vocational study courses within a separate, fully-fledged unit; and her dream was for Ladies' College too, to cater to this national need and to the aspirations of youth who sought qualifications for remunerative careers; even if the department was not a profit centre.
Mrs. Priyanthi Seneviratne addressing the assembly said that as an old girl of the school, she was very grateful to Mrs. Wickremesinghe and Mrs. Salgado for continuing in this altruistic purpose and introducing other study courses, continuously catering to the newer demands of the industries in the country - for example the Diploma for Teachers, the Diplomas in Special Needs Education and in Learning Disabilities, the Executive Secretary's Course, the CIM Introductory Certificate in Marketing, the Computer Course and so many more.
Mrs. Seneviratne, in her very inspiring address on the importance of vocational education, made the following pertinent points. "Education is an extremely broad field. When we narrow it for our present purpose, it is an industry. Within that framework, there are two kinds of education. One teaches how to live and the other teaches how to earn a living. The first is general education for all and largely deals with academic study; and the second is career or vocational education for those who wish to learn various practical occupations - in other words, the type of education you have chosen.
Unfortunately, there is still a misconception that vocational education is for those who cannot cope with academic education at the tertiary level. I'd like to emphasize that vocational education is in no way different or inferior to academic education. In fact, it is a part of wholesome education that our country and any other country needs, for a robust economy. It may even be argued that vocational education is more wholesome than academics, because of its strong practical component.
Within the last decade, most developing countries have been of the view that the traditional model of the University is not suited to meet the multiple demands of economic and social development. The philosophy behind this strategy is to bring about diversification of tertiary institutions, primarily with a view to meeting the growing social demand for higher education. In other words, the system needs to be made more responsive to the changing labour market needs. In addition to the established Universities, the system needs to be diversified with the introduction of more and more non-University tertiary institutions, and it is through the creation of such institutions that the access could be expanded.
This is a vital requirement for a higher education system which is still very University based, as in Sri Lanka. Vocational education also helps those students who are experiential learners - that is, those who find it easier to understand a subject from direct experience. A significant number of students, both university-bound and non-university-bound, are experiential learners who will learn academic skills best from developing them in a career or application context. These students are often as or even more capable of complex learning than traditional learners. They learn academic skills best from concrete tasks and a focus on real-life problems; and often do not work to their potential in the relatively abstract-linear environment of traditional classes.
Another important aspect of vocational or career education is that career path exploration helps many students make more informed and dedicated choices when looking for university enrolment. Students often discover the career path they love and are more motivated to pursue study at university level. Career context makes subjects and courses more meaningful to students because application adds to the strength of learning.
Very importantly, strong secondary school vocational programmes, like you have at the LC DVS, provide workplace skills to some students who do not plan to attend university immediately after leaving school. They also equip many university-bound students with skills useful in part-time work that helps in financing university study offered by many foreign off-shore campuses in the country."
The evening's programme concluded with the distribution of awards by Mrs. Priyanthi Seneviratne to over 200 award winners and the vote of thanks given by Aroshi Galapatha, one of the graduating students.