Lumbini College is famous among all Sri Lankans for its auditorium which has the honour of staging almost every renowned local drama so far. But the most famous mixed school within the Colombo city limits has gone through the greatest of all odds to preserve its dominance at for the past decade in the sports arena.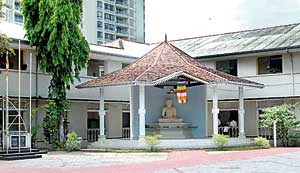 The school which was established in 1929 was known as the Havelock Town Junior Mix School by the colonial rulers. At the beginning Lumbini just had 114 students and all of them had been girls. The first boy entered the school only three years later. Today over 2600 students explore the world of wisdom at Lumbini according to its principal J.G. Amarajeewa.
Amarajeewa who is an ardent sports lover has done drastic changes to the attitudes of the students of Lumbini and as a result the number of boys and girls who indulge in extra curricular activities has improved.
"I have been here as the head of the school for the past 12 years and there were only 1700 students when I took office. Today the number of students have increased and there are over 400 girls out of the total. It's a great improvement in numbers and also the girls are very much keen on sports activities," Amarajeewa said.
Lumbini has 18 active sports and nearly 20 different societies or clubs in their extra curriculum list. Out of them cricket is the obvious favourite among all but rugby and football are two other sports that have made great strides.
"What is satisfactory here is that Lumbini has managed to maintain the healthy progress we earned during the last decade. At present we are in the Division I in all sports and never have we been relegated in the recent past. That's a great achievement for an institution where the majority of the students come from middle class families," he added.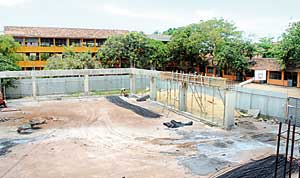 The school has had its setbacks during the recent past in many ways. But the dynamic set of teachers who voluntarily do a hard work to promote sports activities at Lumbini have done wonders in helping the school earn a good reputation. These teachers headed by the prefect-of-games Sarath Upananda has managed to gather the interest of many parents who willingly dole out financial needs at many occasions.
"As a national school Lumbini still does not have a strong Past Pupils Association. But we do have a Development Committee consisting past pupils and they are really putting a genuine effort in raising funds to help the sports activities run smoothly throughout the year. We hope past students would rally around the school when Lumbini is going great guns in the field of sports," Amarajeewa elaborated.
Though Lumbini is in the top division in all major sports such as cricket, rugby and football, its players have not sighted a ground of their own. The master-in-charge of cricket, D.M.S. Dissanayake who boasts his is the sport which is most popular among students of both gender said that Lumbini has a strong feeder in their junior academies.
"We qualified for the knockout stages of the ongoing 1st XI cricket season after a lapse of four years. The two-day season has been a good one for us this year; we won seven, lost three and drew three in 13 games. The coach, Dinesh Weerasinghe has been carrying on a good job since 2009 and due to a strong junior following we never face a shortfall of players in the senior level. Despite the unavailability of a ground of our own I should say cricket is going at its best presently," said a jubilant Dissanayake.
Rugby which has been Lumbini's cradle of fame is another field sport that has a strong backing both from its present and past students. With a rich history of 39 years, rugby has maintained a healthy progress and won many accolades which initiated the formation of a strong past pupils' backing both locally and internationally. In spite of not having a ground the youngsters have shown true spirit of sportsmanship to go from strength to strength in a sport that is dominated by well-to-do schools in the country.
"Our players face difficulties in many ways. They come from middle class families and cannot afford to buy sporting gears and nutritional supplements unlike players of other schools. With all these setbacks we went on to win the Prime Minister's Cup and recently emerged runner-up in the Plate category at the Western Province Sevens tournament next to S. Thomas'. These are top achievements for a school like ours. Our players have been approached by the Armed Forces and Banks during the recent years for the simple reason of them being talented and disciplined. We have great ambitions. From the lowest group of Division I, we have come to the 'B' level and our goal is to gain promotion and remain in the top group from next year," said G.G.S. Sanjeewa and PA Subhani, the teachers in charge of Rugby since 2006.
Though proceeding in a modest fashion football is another sport that has claimed great popularity among the students and also the people in Havelock Town. Football has been an active sport at Lumbini for nearly five decades and at present it has gone to the extent of the girls adopting the game. During the past five years Lumbini has won eleven championships and emerged runners-up thrice at all age levels. The school's footballers have toured three countries and many of them have gone to the national junior level at an average of four to five players annually.