Skills International together with City & Guilds of UK has sponsored the production of a Communicative English Language Training Programme for the Television Medium. The Project is expected to bring a distance learning opportunity to the public to improve Spoken English. In the initial phase the training series titled "ENGLISH FOR SUCCESS", consists of 40 episodes covering different language topics through enactment of common situations related to: workplace, market, home environment, hospital, leisure, telephone conversations, greetings, introductions, giving directions, cooking, expressions of emotions, interviews etc.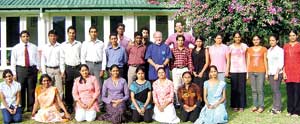 City & Guilds and Skills International shared the cost of producing these programmes with the technical production assistance from the Dharmavahini Foundation. It will be initially telecast over Derana TV, which has made a name among the youth audiences. The programmes are based on the City & Guilds English Language training manuals. Based on these training manuals and lesson plans, Skills International developed the scripts in-house, to relate to local situations, environment and culture. With a reservoir of knowledge in teaching, training and assessing as well as teacher-training, Skills International managed the whole project and mobilized a group of young actors and actresses who play key roles in the TV series. An articulate teacher provides the foundation for learning throughout the series with key interjections on language points.
The stakeholders of the project, City & Guilds, Skills International, Dharmavahini Foundation and Derana TV made a presentation of a sample set of episodes of the series to the Secretary to the President, Lalith Weeratunga at his Temple Trees office recently. Present on the occasion were Ven. Mettavihari, Patron of the Dharmavahini Foundation, Mr. Mufthy Hashim, Regional Manager - City & Guilds, Mr. Danesh Abeyawickrama, Executive Director - Skills International and Ms. Vasanthi Nanayakkara, Derana TV.
Commenting on the initiative Mr. Mufthy Hashim, Regional Manager - South Asia, City & Guilds said "we were inspired by the vision of President Rajapaksa who has given leadership to several programmes to promote English Skills among the youth. With a large vacuum in good teaching skills, a distance learning programme styled as this will enable wider access to quality learning as well as provide inspiration to use the language. Furthermore, the English taught would be based on an internationally accepted structure that would benefit learners".
"As an additional tool towards learning, the City & Guilds Work Books are being printed in Sri Lanka so that a student can do self-study along with the localized examples seen through the TV series" Mr Hashim further added.
Mr. Danesh Abeyawickrama, Executive Director of Skills International commented that his organization had already started working with nearly 150 private English language Tutories to adopt the City & Guilds training methods. Sri Lanka has over 3000 private tutories that constitute the major avenues for English Language learning in the country.
"What we have done is to introduce the City & Guilds teaching methodologies to the institutions we have started working with and are beginning to see a marked improvement in their outputs. English is the Commercial Language of the world and it has to be taught based on an internationally accepted structure. We believe, the reason why people in Sri Lanka need English is, not to talk among themselves but to interact with the rest of the world and use it in commercial transactions. This is why a programme based on a strong foundation can be beneficial to the learners so that their language usage can be easily comprehended".
Mr. Mufthy Hashim commenting on the City & Guilds English Programmes said these training programmes fell under the International Spoken English for Speakers of Other Languages and recognized that the learners were not natural speakers of English. The Language Programmes consist of 6 different levels from Preliminary, Access, Achiever, Communicator, Expert to Mastery. At the lower levels of English, the emphasis on grammar and pronunciation are very low. The intention is to activate communication rather than perfect it. However, the higher you go on the City & Guilds levels proper grammar, range and pronunciation become more important.
"We have appointed Skills International to implement the entire English initiative in Sri Lanka due to their familiarity and knowledge on ensuring the standards expected by City & Guilds. They are entrusted with the task of conducting all English Exams in Sri Lanka while the marking of Spoken English recordings of candidates will be done at City & Guilds - UK. Those who opt to use the opportunity of presenting themselves for exams either through self study using the TV programme or through the tutories can obtain international certificates endorsing their Language Competence by City & Guilds, if they pass the exams.
Speaking on the Teacher-Training initiative for Private Tutory teachers under the English for Success Project, Mr. Abeyawickrama commented that City & Guilds would provide Teacher-Trainers to train 250 teachers from the tutories through 10 regionally organized workshops. Already 3 workshops have been completed in Kandy, Colombo and Matara with training provided to 75 teachers by the renowned Teacher-Trainer Vincent Smidowicz who has authored several training manuals for delivery of City & Guilds English for Speakers of other Languages. Seven more workshops are planned to be conducted island wide to strengthen the teaching skills of private tutories. Since the trainers are provided by City & Guilds as their commitment to uplifting English Skills in the country, these workshops are provided to the Teachers of tutories at no cost and are intensive training programmes covering 30 hours of training over 5 days.
Mr. Lalith Weeratunga, President's Secretary requested that one of the planned training workshops be conducted in Moneragala in view of the academic, vocational & commercial resurgence in the Uva province. Messrs. Hashim and Abeyawickrama acceded to this request and one of the seven workshops will be held in Moneragala.
City & Guilds is the world's foremost vocational qualification awarding body based in the UK and is a Royal Chartered institute with a 130 year history of establishing world standards for work. Its qualifications numbering over 800 cover major areas such as Engineering, Business Support Skills, Hospitality, IT, Retailing, Hair & Beauty and Marketing. Last year City & Guilds issued over 2 million certificates worldwide and has been a well known brand in Sri Lanka with high acceptance in the international job markets.
Skills International is the Implementation Partner of City & Guilds and is a multidisciplinary organization involved in training, consultancy and examination services. It is also a leader in City & Guilds Engineering Programmes and implements its programmes in collaboration with several government agencies catering to a large number of students who would otherwise not have access to quality technician and vocational programmes. Its foray into consultancy and research has seen several projects covering surveys, impact evaluations, monitoring & evaluation, preparation of training plans for selected sectors and preparation of corporate plans for several international and local agencies. These include Projects done for the World Bank, ADB, UNDP, ICTA, Ministry of Higher Education, Tertiary & Vocational Education Commission, University of Visual & Performing Arts etc.
Skills International also plays a regional role for City & Guilds as the authorized representative for Pakistan. It has supported several institutions in the public and the private sector to upgrade infrastructure and teaching skills.