Ritsumeikan, Japan's third largest university system, is here in Sri Lanka. Discussions with Professor Kiyofumi Kawaguchi, Chancellor, and Professor Monte Cassim, a Sri Lankan who is Vice-Chancellor of Ritsumeikan, during a visit to Japan by Professor Tissa Vitarana, Senior Minister of Scientific Affairs and Professor Sirimali Fernando, Chair of the National Science Foundation, mark the beginning of this relationship. For the past two years, Professor Susumu Sugiyama, Ritsumeikan's nanotechnology expert, has been working to establish a global reputation for the Sri Lanka Institute of Nano-Technology, SLINTEC, under a JICA expert dispatch programme.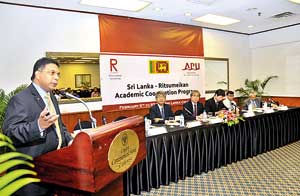 At SLINTEC Professor Sugiyama has trained Sri Lanka's scientists to work at molecular and atomic level to design micro-electrical and mechanical systems (MEMS) and nano-electrical and mechanical systems (NEMS). The transfer of advanced NEMS/MEMS technologies would provide Sri Lanka's industries with a globally competitive edge. For example, embedding molecular-level pressure and acceleration sensors in solid rubber tyres could give us advance warning of tyre-burst or damage which might make the vehicle unsafe. NEMS/MEMS sensors could be applied to make "smart textiles" which could sense the vital signs and bio-medical conditions of the wearer and transmit them to a remote health monitoring facility. Nano-structures development could give a new lease of life to our material industries, such as graphite and other mineral resources.
From being a bulk exporter of low value added raw materials, Sri Lanka can transform her industrial base into a high-value added, globally competitive high performer. Climate change monitoring and early warning systems for disaster prediction or agricultural risk mitigation are other applications of integrated sensor systems which could benefit Sri Lanka and protect her plantation sector.
The name Ritsumeikan comes from the discourses of Mencius, the famous Chinese philosopher. It means "a place to shape one's destiny" through learning and the continual innovative application of knowledge. Ritsumeikan University traces its roots to a private academy, established in 1869 by Prince Saionji, who later became prime minister of Japan. Saionji's liberal principles have shaped Ritsumeikan's own destiny as it contributed to Japan's modernization, transforming into a modern university in 1900. Peace and democracy are ideals that Ritsumeikan holds dear ...they are universal values which Sri Lanka, home to one of the oldest modern parliamentary democracies, also shares.
In the year 2000, Ritsumeikan established the Asia Pacific University, APU, as the Trust's millennium project, to nurture leaders who would contribute to the peace and prosperity of the Asia Pacific region.
The total number of Sri Lankan students and alumni who have been at Ritsumeikan's two universities over the last ten years now exceeds 120. APU offers a generous scholarship programme to the brightest and best from developing and emerging economies. Four Sri Lankan high schools, Ladies' College, Lyceum International, Royal College and Wycherly International have signed cooperation agreements with APU to avail themselves of this facility and study in a multicultural environment that is a microcosm of the world. Today, Ritsumeikan's alumni, thanks to APU's global outreach, come from over 130 countries or territories across the world, "'I hope our alumni here can work closely with universities, public and private institutions in Sri Lanka, acting as bridges between Sri Lanka and Japan and contribute to the development of their motherland", said Chancellor Kawaguchi in his address to APU's alumni.
Ritsumeikan is also working with the Sri Lanka institute of Tourism and Hospitality Management (SLITHM) to develop a new curriculum and pedagogic methods that will enable the institute to better serve the tourism industry and make it "a trendsetter for the nation's economic growth", in the words of Dr. Nalaka Godahewa, Chairman of the Sri Lanka Tourist Board. A training programme for SLlTHM faculty and industry representatives is about to be launched soon. Ritsumeikan's resident coordinator for this JICA/JBIC finance project is Mr. Harin Gunawardena, who also acts as Ritsumeikan and APU representative in Sri Lanka.
Tourism, since the 1960s has been the world's largest economic sector. Its economic impact reaches down to the poorest in the community and as a result, much hope has been placed in the sector in addressing the Millennium Development Goals (MDGs) by the United Nations. Ritsumeikan also has a cooperation agreement with the World Tourism Organization (UN-WTO) as an institution committed to realizing the MDGs through the tourism sector. The APU has both undergraduate and postgraduate programmes in Tourism, leading up to a doctorate. At Ritsumeikan University, the Service Management Institute has several experts in tourism and hospitality management. "The owners of some of the best Japanese restaurants in the ancient capital of Kyoto are Ritsumeikan's alumni. Many of our alumni are also in senior executive positions in the travel and hotel sector. I, myself, was involved in asking some of them for their cooperation in this JICA project" said Ritsumeikan Chancellor, Professor Kawaguchi, in his address at SLITHM.
Sri Lanka is in a critical phase of her national development. Today Ritsumeikan has signed a Letter of Intent to cooperate with the Sri Lankan Institute of Development Administration, SLIDA, with a view to developing an advanced training programme for increasing the productivity of the nation's public sector. Ritsumeikan's Chancellor expressed his wish to place the intellectual assets of his university system at the service of the home countries of his students and alumni. This is in keeping with Ritsumeikan's long term plan, R2020, which aims at "creating a future beyond borders". Sri Lanka is the launching pad for this exercise in international academic and development cooperation.
Today Ritsumeikan is home to many national Centres of Excellence, has its own synchrotron radiation research facility, is strong in robotics, information and communications technologies, environmental engineering and the life sciences. It is also strong in the humanities and social sciences. Ritsumeikan has also been designated as a national centre for the globalization of higher education. The university system has received innumerable Good Practice Awards from the Japanese Ministry of Education.
Summing up his first visit to this island nation, Chancellor Kawaguchi said "It will be my privilege to strengthen Ritsumeikan's academic and development cooperation with Sri Lanka to advance science and technology, nurture government and business leaders and bring Japan and Sri Lanka's cultures closer together".