Live with dignity. Do not make a laughing stock of yourself. Don't sit on your laurels. Pursue your chosen career. This was the advice that former Sri Lanka prop forward and Police rugby skipper and Superintendent of Police Hafeez Marso had to convey to young sportsmen when the Sunday Times interviewed him.
The broad shouldered Marso is now the Technical Officer of the Police rugby team. He has plans to bring Police back to the top of the rugby ladder. "I am confident of getting a sponsor for the Police rugby team this year. That will solve a lot of our problems," said Marso.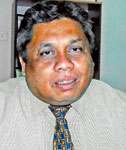 Hafeez Marso
Marso heads a special unit at Malalasekera Mawatha. He traced Police's rugby career step by step from the time that IGP, the late Rudra Rajasingham was the 'Patron Saint' of Police Rugby. Marso recalled the days when Rajasingham would walk into the dressing room before an encounter and pat the back of players with encouraging words.
"At times after final practices, we remember him saying in his own assertive voice, "Boys you must win. I have to face the Security Council. For some it took a little time to realize what he meant. For many it was like Greek. Nonetheless the boys did the job," recalled Marso.
"Playing basketball, football and rugby was drilled into me. My father was also in the Police and naturally we, the kids, got absorbed into these games. I would often attend rugby practices and then go to play in a basketball final and return for rugby practices. It was strenuous work, but I enjoyed it," said Marso.
Marso has played a host of Cup Finals and the best that he recalls is the 1967 Clifford Cup final when Police led by S. Sivendran toppled CR&FC with stalwarts like Sari de Sylva, Mohammed Azain and Mohan Sahayam 9-6 in the final. Bagoos Sourjah put over a penalty in fading light to give Police the win. Marso has played with Police rugby greats such as Anton Benedict, Nizam Hajireen and has even figured in the B Division when Police won the B Division title under Sivendran. His size and his ability to kick won him a permanent place in the National squad too. To date he has figured in several tours abroad for Asian Tournaments, the Hong Kong Sevens in 1986 and 1988 and the Sri Lanka's Far East Tours in 1985 and 1989.
During the insurgency year 1983 when Police withdrew from rugby competitions Marso donned the CR's red jersey and played under 'Cargo' Siriwardena with Police players such as Dharmakeerthi, Sahabandu and Mahesh Perera. "We were a committed lot and Police released us to pursue the game we loved most," said Marso.
To get to the present, Marso is dead keen to bring back the glory days of rugby back to Police Park. They have already started a talent search and hope to recruit at least five young players every year.
Police also has plans to obtain the services of a foreign coach, to form a Development Squad of 30 young players and obtain special nutrition.
The Police Rugby Technical Committee also wants to do away with the traditional way of appointing captains merely on seniority and has taken the strong view that criterion for such appointment has to be based on automatic choice in the starting 15, leadership qualities, knowledge of the game, strategic thinking and decision making skills and commanding the respect of fellow players.
Presently seven A Division rugby players who are serving in remote stations are to be transferred to either Field Force HQ or Sports Division.
They are: Viraj Devasurendra, Ajith Herath, Malith Hettiarachchi, Priyantha Ekanayake, Mohomad Akmal, Gemunu Indrachapa and Karus Fernando. The committee has suggested the Pool for off season training. They are: N.D. Welagedera, Pradeep Wilson, H.W. Wijeweera, C. Ranasinghe, T. Sivanandan, Rumesh Acharige, Hasan Gomes, M.V. Jeevan, T.D. Seneviratne, Champika Thushara, C. Silva, Charaka Hewawasam, Asela Vithana, Ranjeth Kumara, Dinesh Kumara, D. Pubudu, U.B. Gonawela, W.C.L. Werasuriyage, L.R.M. Gamage, Kasun Fernando and Milinda Bandara.