Science College are up in arms. With the schools season about to kick off in 2 weeks time they are threatening the governing body of the Schools section to be taken to courts if they are not accommodated in to the top division.
The argument behind Science College's threat is that SLSRFA is making an attempt to reverse an officially confirmed position with regard to their promotion to the top division.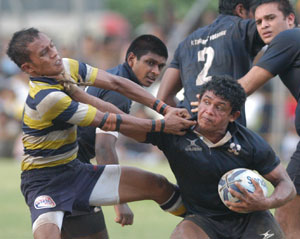 2011 schools rugby season is also going to face challenges
Speaking to the Sunday Times Chairman of Rugby-Science College who is a former CH & FC and National Sevens Captain Nazeem Mohamed said: " We played Thurstan College on April 23 last year and the game was stopped after 23 minutes due to bad weather when we were leading 7-0. Dilroy Fernando was the referee and Gamini Sarathchandra Master-in-charge of Isipathana acted as Match Commissioner (Tournament Committee Secretary) said that this game will be played on a later date. The same reflects in the handbook published by SLSRFA towards the end of the season."
Nazeem went on to say that several reminders were sent from Science College to the Schools Rugby Association and all fell on deaf ears of an unproductive committee. "Later in the season we got to know that Thurstan had refused to re-play the game against us saying that the rule book does not say about any replays to be conducted."
Nazeem continued: "The Schools League season came to an end on June 22, 2010 and our (Science College) standing was number two behind St. Joseph's. This was announced at a press conference conducted by the SLSRFA on June 22, 2010, in Colombo. Though both schools recorded identical aggregates of 29.5 We qualified to stand at number two position over Thurstan on the basis that we have scored more tries according to the points awarding rules of the handbook. Subsequently replying to a protest by Thurstan, SLSFRA confirmed its stance on the points awarded, thus assuring Science College of its position in the concluded league through a letter dated June 29 2010, signed by its Secretary Denzil Darling.
Continuing Nazeem Mohamed said, "Thurstan was not happy with this decision and went to the Ministry of Education who called for a meeting in a bid to resolve the dispute but ended without a change to the original decision. Thus Science ended up as first runner-up. Later with the aim to resolve the dispute in a "all feel well" approach, SLSRFA called an SGM (Special General Meeting) on November 4, 2010 at Lumbini College, presided over by the then Vice President of SLSRFA, P J Amarajeewa and voted to include 11 teams in the top division."
As per the minutes of the meeting 23 members voted for, and 4 against. The most disturbing point is that at a committee meeting held on February 22, at Nalanda College, the newly appointed office has taken an arbitrary decision to revoke a decision taken 8 months back, more importantly confirmed by the same association when it was challenged by another school. Mohamed concluded by saying, "We have spent more than 4 Million rupees in order to develop rugby in the school and we cannot keep our supporters in dark anymore."