Five matches gone and our passage to the quarter-finals have been confirmed. Our first objective has therefore been achieved, but that does not make our next game against New Zealand on Friday any less important. We want to qualify in the best possible position.
Our performance against Zimbabwe was very encouraging. It was actually quite a big game for us after losing to Pakistan and sharing points with Australia. We were under quite a bit of pressure against a team with the potential to spring a surprise. It was essential we executed our game plans well and we were delighted with the way things panned out.
Going into the game it was a new challenge having never played a one-day international before in Pallekelle. Given the slight change in conditions, including the probability of heavy dew in the evening and some movement for the seamers under lights, we had to change our strategy slightly with four seam bowlers rather than the two quicks we played against Australia.
We wanted to ensure that we covered all bases in terms of our team selection given that we wanted to bat first and we'd reasoned that there was a 50/50 chance Zimbabwe would like to bowl first due to the strength in slow bowling. That prediction was spot on and the make-up of our team worked well. That's the advantage of having such a well-balanced squad that gives us different options when it comes to playing in varied conditions.
Dilshan and Upul (Tharanga) gave us a fantastic start and it was great to watch them build-up a record stand. They had threatened a really big stand in some of the earlier games, but this they really clicked as a pairing. The pitch was very good for batting, but still a little bit slow in the first innings so they still had to work hard for their runs.
In the second innings the pitch seemed to quicken up, although that might also have reflected the greater pace of our fast bowlers. With the ball coming onto the bat nicely Brendon Taylor showed us all what a dangerous player he has become. A clean striker of the ball with an uncomplicated technique, he played some top quality strokes.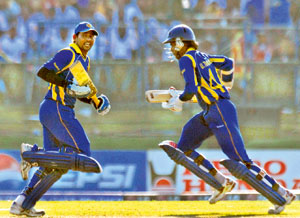 Dilshan and Upul Tharanga gave us a fantastic start and it was great to watch them build-up a record stand. Pix by Sanka Vidanagama
Although Taylor was impressive, one area where we can probably improve is in the first 10 overs in the field. Not for the first time in this tournament there were too many runs scored and our fielding was not razor-sharp. The lighting and conditions may have been different, but that is no excuse and we have to work hard this week on this aspect of our game.
Murali, as he has done for so many years, provided that vital breakthrough with a wonderful doosra. Dilshan was always going to have a bowling role with only one specialist spinner in the team and his bowling was excellent.
I was desperately disappointed to have not snapped-up a second catch at slip to give him a hat-trick. I should have taken it and I felt sorry for him because you don't get many opportunities to take a hat-trick in a World Cup. He was very kind, though, and just thanked me for holding onto the first catch.
The atmosphere in Kandy was great and the whole team really enjoyed the occasion. The support we got from the crowd was amazing and it means so much to us all to walk out onto the field knowing so many people are passionately cheering us on. I would like to thank everyone who came for helping make the night so special.
We travelled back to Colombo on Friday and after a day off we fly to Mumbai late on Sunday. That will give us four days to prepare for our next game against New Zealand. They will be tough opponents because as they showed against Pakistan they have the firepower to beat anyone in this tournament.
Although we have enjoyed playing our first five games in Sri Lanka, I feel the trip to India is good for us before the quarter finals.
It will give us a good taste of some different conditions and that should help us prepare for the possibility of playing knock-out matches outside of Sri Lanka. To win this tournament we have to continue to adapt well to different challenges.