Bad light prevented the gritty Thomians from recording a well deserved and thrilling win as they fell short by 34 runs from reaching their target after a sporty Royal declaration as the 132nd Battle of the Blues ended in a draw at the SSC ground in Colombo yesterday.
Chasing a getable target of 268 runs from 54 overs the Thomians ended their entertaining run hunt at 234 for four wickets when the umpires decided to call off play at five minutes past six. The Thomians constantly on the hunt had the entire Royal camp on their toes after the sporty declaration made by the Reid Avenue lads which came 30 minutes before tea on the third and final day.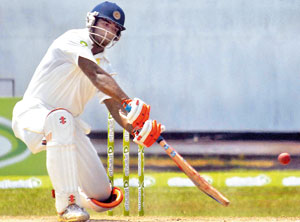 Royal skipper Ramith, Rambukwella who scored two successive half centuries, attempts to drive during his knock of 79. Pix by Sanka Vidanagama
Though the encounter progressed in a dull fashion during the entire first day and into the third session of the second day the world's second oldest cricket encounter peaked to the highest level and ran to the wire giving its followers an exciting experience. Captains of both teams - Ramith Rambukwella of Royal and Chamod Pathirana of S. Thomas' - excelled with superb all-round performances probably creating a new record to the encounter's massive history.
Rambukwella (83 & 79 and 4/54) ended with a run tally of 162 runs with successive half centuries and emerged as the top wicket taker for Royal in the Thomian first innings. Pathirana opening the bowling attack for S. Thomas' ended with a match bag of 8 wickets for 186 inclusive of a five wicket haul and hit 63 to help his side gain an advantage of 47 runs in the first innings.
Rambukwella won the awards for man-of-the-match and best batsman while Pathirana was adjudged the best bowler. The agile Royalist Anjana Kudahetty was named the best fielder.
S. Thomas' began their chase and made the intentions clear of going for a win after three years but their openers wilted under pressure. They lost Javed Bongso (16) cheaply but his partner Asiri Wickremanayake committed himself to play his shots but fell after making a promising 43 at 67 as the second victim.
Nuwan Kavinda who had a fitting end to a successful cricket season reached 1000 runs during his entertaining 67 which came off just 47 deliveries. He hit eight boundaries and made the Royalists toil. Peiris who hit a fluent 51 during last year's encounter as a debutant went on to clobber an unbeaten 77 but had to end disappointed at the point when the match officials called it a day due to decreasing light. Peiris faced 85 balls and hit eight elegant fours during his knock. In spite of the Royal bowlers under attack all rounder Bhanuka Rajapaksha managed to break two vital partnerships with his variety of medium pace deliveries.
Royal resumed from their overnight total of 99 for the loss of one wicket with skipper Ramith Rambukwella passing the half century mark for the second time in this game. Rambukwella who was unbeaten on 53 began to accelerate Royal's run rate and went on to build up an important partnership of 95 runs for the second wicket with Supun Subasinghe. Chamod Pathirana who bagged five wickets in the first innings then had to return with a tight spell to break the stand as he dismissed Subasinghe who was getting accustomed to the conditions. Subasinghe was caught by Javed Bongso at second slip for 36 at 127.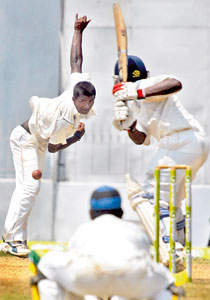 Thomian skipper Chamod Pathirana in action
Aggressive Bhanuka Rajapaksha then joined Rambukwella and made the runs flow again. As when the partnership began to flourish Pathirana came back to break the stand by bowling a full length delivery to claim the priceless wicket of Rambukwella who was clean bowled.
Rambukwella well set for a deserving century but had to depart after striking 79 off 124 balls. He hit 10 boundaries during the patient knock and became the second batsman from Royal to score successive half centuries in a Battle of the Blues encounter following a first innings knock of 83. Nirmal Hettiaratchi scored 62 and 65 not out to become the first batsman to score back-to-back half centuries in a big match for Royal in the encounter of 1970.
Pathirana claimed his third victim after tempting Rajapaksha off a beautiful out-swinger. The left-hander attempted an off-drive but the ball found the edge of his bat before finding the safe hands of second slip Madushan Ravichandrakumar. Middle-order batsman Imal Liyanage and rookie Heshan Kumarasiri then worried the Thomian bowlers but ensured the safety of their team without going for big shots. The pair went on to add further energy into Royal's efforts.
Liyanage played a steady knock until he lost his patience and nearly got run out but he survived and went on to reach his fifty after driving seamer Mevantha de Silva for a single at mid off. Seventeen year old Kumarasiri who played a valuable knock under tremendous pressure followed his partner to reach his fifty with a single towards deep cover point off leg-spinner Madushan Ravichandrakumar.
With nearly 30 minutes for tea Royal declared their innings at 314 for the loss of five wickets when Kumarasiri was on song at 60 not out. At the time of declaration Kumarasiri had reached the milestone of 1000 runs during his debut 1st XI season. Thomian skipper Chamod Pathirana finished with a match bag of eight wickets after grabbing 3 for 85.
S. Thomas scored 323 runs with half centuries from big match debutant Madushan Ravichandrakumar (69), skipper Pathirana (63) and Kavindu Perera (51). Off-spinner Rambukwella bowled well to capture 4 for 54.
Scoreboard
Royal first innings 276 for 9 declared in 66.2 overs
(Waruna Dissanayake 42, Ramith Rambukwella 83, Bhanuka Rajapaksha 55, Imal Liyanage 27, Chamod Pathirana 5/101, Madushan Ravichandrakumar 4/50)
S. Thomas' first innings 323 all out in 77.5 overs
(Nuwan Kavinda 36, Kavindu Perera 51, Chamod Pathirana 63, Neomal Wickremasekera 27, Madushan Ravichandrakumar 69, Umesh Fernando 33, Ramith Rambukwella 4/54, Gaurav Deva 2/51, Bhanuka Rajapaksha 2/69)
Royal 2nd inning (overnight 99 for 1)
Waruna Dissanayake st S Peiris b N Wickremasekera 12
(Stepped out to loft but the ball spun away.)
Ramith Rambukwella b C Pathirana 79
(Attempted to flick but the ball missed his bat and castled the leg stump)
Supun Subasinghe c J Bongso b C Pathirana 36
(Attempted to drive to an outswinger. Was caught at
second slip)
Bhanuka Rajapaksha c M Ravichandrakumar b C Pathirana 30
(Attempted to play on the off side to an outswinger. Ball found the edge and went to the second slip)
Imal Liyanage c A W'nayake b N Kavinda 65
(Pulled and was caught at mid on)
Heshan Kumarasiri not out 60
Milan Abeysekara not out 07
Extras (b14, lb2, w5, nb 4) 25
Total (for 5 wickets declared; 79 overs) 314
Fall-of-wickets: 1-32 (Dissanayake), 2-127 (Subasinghe), 3-149 (Rambukwella), 4-180 (Rajapaksha), 5-293 (Liyanage)
Bowling: Chamod Pathirana 26-1-85-3 (nb4, w2), Mevantha de Silva 14-3-55-0 (w3), Neomal Wickremasekera 9-1-36-1, Umesh Fernando 21-3-69-0, Madushan Ravichandrakumar 7-1-42-0, Nuwan Kavinda 2-0-11-1
S. Thomas 2nd inning (Target 268 in 54 overs)
Asiri Wickremanayake C R Rambukwella
b D Pathmanathan 43
(Attempted to cut but the ball found the edge and
caught at first slip)
Javed Bongso lbw b G Deva 16
(Attempted to flick but the ball missed the bat)
Nuwan Kavinda c D Pathmanathan b B. Rajapaksha 67
(Played a pull shot. Was caught at deep mid on)
Sachin Peiris not out 77
Ramith Gunaratne c A Kudahetty b B Rajapaksha 11
(Played an upper cut and was caught at sweeper cover)
Kavindu Perera not out 04
Extras (b6, lb6, w4) 16
Total (for 4 wickets; 41 overs at close) 234
Fall-of-wickets: 1-51 (Bongso), 2-67 (Wickremanayake), 3-193 (Kavinda), 4-214 (Gunaratne)
Bowling: Imran Khan 4-0-25-0, Ramith Rambukwella 12-2-45-0 (w2), Bhanuka Rajapaksha 9-0-52-2 (w2), Gaurav Deva 6-0-39-1, Devind Pathmanathan 1-0-13-0