Jaffna Central defeated traditional rivals St John's Jaffna by two wickets to record their fifth successive win in their annual 105th Battle of North encounter concluded at the Central ground in Jaffna yesterday.
Jaffna Central who were 127 for 8 at the end of the second days play came into the game on the final day needing just six runs for victory with two wickets in hand.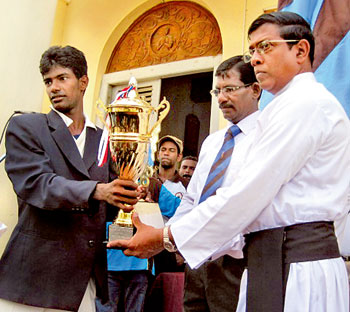 Jaffna Central skipper Gnanaseelan Jerikthusan receiving the trophy from St John's Jaffna principal Rev N.J.. Gnanaponraja watched by Jaffna Central principal L. Omgara Moorthy.
On the whole it was an encouraging display put in by St John's who came into the game as underdogs against the strong Central side which had two batsmen who have cracked double tons.
The battle on the first two days was evenly fought with both teams sharing the honours. On the opening day St John's though being bundled out for 118 struck back to have the Centralians struggle for their runs and reeling on 33 for 5.
The Centralians was saved by a valuable 52 runs stand for the sixth wicket between Edward Edin who made a top score of 50 and Mahenthirasa Dharshan which helped them reach a score of 131. St John's batting the second too underwent the same fate and were struggling on 90 for 9 before last wicket stand of 55 runs between Sangarajah Duckshan who made 59 and Vivekanantharajah Hariharan enabled them make a decent score of 145.
Even then the Centralians set a simple target of 133 runs underwent some anxious moments and were made to struggle for their runs before being able to record their fifth win. Jaffna Central skipper and right arm pacie Gnanaseelan Jerikthusan had a successful match as he put in a fine all round performance with the best as being his top figures of 5 for 21 and 5 for 42 which gave him a match bag of 10 for 63.
St. John's 118 (Vivekanantharajah Harivathanan 20, Jesuthasan Adrian 18, Ali Akbar Sansajan 17, Sritharan Priytharshan 15: Gnanaseelan Jerikthusan 5 for 21, Thangarajah Kokulan 4 for 68) and (16/1 overnight) 145 (Sangarajah Duckshan 59, Sajeetharan Rajeenthan 45: Gnanaseelan Jerikthusan 5 for 42, Ravi Vathushanan 4 for 57)
Jaffna Central 131 (Edward Edin 50, Mahenthirasa Darshan 15: Sangarajah Duckshan 3 for 13, Ananthakumar Vathushanan 3 for 22, Vivekanantharajah Harivathanan 3 for 43) and 135 for 8 (Gnanaseelan Jerikthusan 31, Thangarajah Kokulan 20, Ravi Vathushanan 15: Vivekanantharajah Harivathanan 4 for 48)