Former Sri Lankan Sevens Captain Nazeem Mohamed said that he was very disappointed with the IRB suspension and pointed out that rugby development in the country is in a mess and is bound to get worse.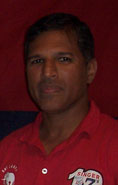 Dilroy Fernando
The International Rugby Board (IRB) has suspended Sri Lanka Rugby Football Union's (SLRFU) full membership status with immediate effect. This came at a council decision after the SLRFU failed to conduct its annual general meeting (AGM) according to IRB rules. The SLRFU has now been reduced to IRB Associate Member status. A further review will be done on April 1, on the successful completion of SLRFU's AGM. But the Internal Rugby Board said the country will be able to take part in the Asian Five Nations Tournament.
In February this year the IRB granted British Pounds 40,000 to the SLRFU for the development of rugby in the country. "These funds are given not for the national team or SLRFU's administration expenses but the development of the game in the country. With the present set up, I am not too sure if they will hold fair and fare elections before March 31," said Mohamed.
Former CEO of the SLRFU and IRB "A" Grade referee Dilroy Fernando said it is a very sad status for the country's rugby. We were having a membership of more than 100 years, all because of irresponsible administrators at the SLRFU, all these things are happening. We cannot do anything. My question is if the majority of the Provinces are against you why are they holding office?" As a CEO I have visited all 7 provinces and conducted tournaments and referee training programmes.
I am sad to say there are a lot of young lads interested in the sport but sadly there is no funding, specially in places like Anuradapura, Embilipitiya, Tissa and Hambantota. People in the caliber of Y.C. Chang, Arjun Dharmadasa and Fazal Mohamed had done yeoman service in development four years back .
But without the funding how are we going forward? Also we are for surely answerable for our accounting not only for the Sports Ministry but also to the IRB too as the majority of the funds is coming from Dublin in Ireland.