NAGPUR, India, March 12, 2011 (AFP) - South Africa backed paceman Dale Steyn's five-wicket burst with their batting depth to end India's winning run with a thrilling three-wicket victory in the World Cup on Saturday.
Needing 13 to win in the last over off seamer Ashish Nehra, South Africa found an unlikely star in Robin Peterson who plundered 16 runs off the first four balls to help his side achieve a 297-run target.
India looked set to post a mammoth total when they reached 267-1 following Sachin Tendulkar's brilliant 111 for his 48th one-day hundred, but lost their last nine wickets for just 29 runs in nine overs to be bowled out for 296.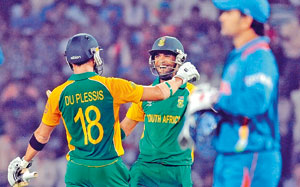 Francois du Plessis (L) and Robin Peterson (C) celebrates the victory as India captain Mahendra Singh Dhoni (R) looks on. AFP
Man of the match Steyn (5-50) played a key role in his team's fightback to bag his maiden five-wicket haul in one-day internationals. India, who had been hoping to wrap up a quarter-final place but suffered their first defeat, still top Group B with seven points from five matches.
They are followed by West Indies (6/4), South Africa (6/4), England (5/5) and Bangladesh (4/4) as the pool heads for a thrilling conclusion in the final week of first round games. Jacques Kallis (69), Hashim Amla (61), AB de Villiers (52), Faf du Plessis (25 not out) and JP Duminy (23) also contributed to South Africa's win.
Tendulkar earlier dominated the South African attack, cracking three sixes and eight fours in a 101-ball knock. He now needs just one more century to become the first player to score 100 international hundreds, having already made 51 in Test cricket.
South Africa's attack came under pressure for the first time in four matches as Tendulkar, Virender Sehwag (73) and Gautam Gambhir (69) comfortably gathered runs against pace and spin, much to the delight of a capacity crowd.
India made the most of winning the toss on an easy-paced pitch as Sehwag and Tendulkar provided an explosive 142-run start off just 17.4 overs. Gambhir continued the good work, adding 125 for the second wicket with Tendulkar.
Sehwag, who survived on four and 70, hammered 12 fours in his 66-ball knock. He began his fifth successive innings with a four when he lofted Steyn over mid-on. He had a lucky escape in the next over, his edge off paceman Morne Morkel flying past wicket-keeper Morne van Wyk.
Sehwag did not curb his strokes after the let-off, smashing Steyn for two more boundaries and then punishing Morkel for three fours in an over as India raced to 50 off just 41 balls. Runs flowed from both the ends as Tendulkar also fluently drove Morkel through the covers and then straight-drove the next delivery for two successive fours.
Tendulkar offered a difficult chance on 47 when he lofted left-arm spinner Peterson over extra cover but de Villiers, running in from long-off, failed to hold on to the ball even after making a fine diving effort.
Scoreboard
India:
V. Sehwag b du Plessis 73
S. Tendulkar c Duminy b Morkel 111
G. Gambhir c Kallis b Steyn 69
Y. Pathan c Smith b Steyn 0
Yuvraj Singh c Botha b Kallis 12
MS Dhoni not out 12
V. Kohli c and b Peterson 01
Harbhajan Singh b Steyn 3
Zaheer Khan c Morkel b Peterson 00
A. Nehra c Smith b Steyn 0
M. Patel b Steyn 0
Extras (lb2, nb1, w12) 15
Total (for all out; 48.4 overs) 296
Fall of wkts: 1-142 (Sehwag), 2-267 (Tendulkar), 3-268 (Gambhir), 4-268 (Pathan), 5-283 (Yuvraj), 6-286 (Kohli), 7-293 (Harbhajan), 8-294 (Zaheer), 9-296 (Nehra), 10-296 (Patel).
Bowling: Steyn 9.4-0-50-5 (w6), Morkel 7-0-59-1 (nb1), Kallis 8-0-43-1 (w1), Peterson 9-0-52-2 (w2), Duminy 3-0-29-0, Botha 9-0-39-0 (w2), du Plessis 3-0-22-1 (w1).
South Africa:
H. Amla c Dhoni b Harbhajan 61
G. Smith c Tendulkar b Zaheer 16
J. Kallis run out 69
AB de Villiers c Kohli b Harbhajan 52
JP Duminy st Dhoni b Harbhajan 23
F. du Plessis not out 25
M. van Wyk lbw b Patel 05
J. Botha c sub (Raina) b Patel 23
R. Peterson not out 18
Extras (lb7, w1) 08
Total (for seven wickets; 49.4 overs) 300
Fall of wkts: 1-41 (Smith), 2-127 (Amla), 3-173 (Kallis), 4-223 (de Villiers), 5-238 (Duminy), 6-247 (van Wyk), 7-279 (Botha).
Bowling: Zaheer 10-0-43-1, Nehra 8.4-0-65-0, Patel 10-0-65-2, Pathan 4-0-20-0, Yuvraj 8-0-47-0, Harbhajan 9-0-53-3 (w1).