Keeping the Physical and Mental levels of all players at a high consistency during the entire tournament is going to be very vital for the success of teams as we approach a crucial period of the World Cup where teams are fighting tooth and nail for a place in the last eight.
Already we have witnessed the unfortunate exit of a few players like Kevin Petersen, Stuart Broad, and Doug Bollinger while a few others are carrying niggling and threatening injuries. Thankfully the Lankan camp has been spared with all players reported to be free of injuries.
Sri Lanka as expected has booked a place in the quarter finals but needs to get maximum points from the New Zealand game in order to finish second in the group and play the team finishing 3 rd in Group A.
Despite the loss to Pakistan and a washout against the World Champs Australia, the Sri Lanka team appears to be slowly but surely getting their act together ahead of the all important knock-out stage. However there are a few areas that need to be fine tuned which I am sure will be looked into by Trevor Bayliss and company.
Sri Lanka –Australia
This was a game that all Sri Lankans here and abroad were looking forward to. I was told that fans began to come to the Premadasa Stadium even before the Sri Lankan team bus left the Hotel. The anxiety and eagerness of the spectatators is no different when it comes to the players. When there is an important game like this even the most experienced players are tensed up as they prepare for the game. Mobile Phones keep ringing sometimes all morning as friends and family members express their best wishes.
As players it is always a delight to walk into the playground and see a full house. It really gets the adrenalin pumping as you know that the expectations of the home crowd is very high. Last Saturday was no different. The atmosphere was terrific everything was set for a spectacular game of cricket. It was very unfortunate that the rains came down and ruined a game that was shaping up very well.
At around 146 for 3 in 32 over's Sri Lanka appeared to be in a good position with Sangakkara stroking the ball to all parts of the field and Samaraweera giving him the much needed support.
A total of around 230 plus was on the cards and with the wicket offering so much turn early on and with Sri Lanka playing three of their best spinners the Aussies would have been up against a challenging total. However that was not to be and much to the disappointment of both teams and the thousands of spectators Sri Lanka and Australia were forced to take a point each.
Sri Lanka –Zimbabwe
Sri Lanka took no chances in this game and once again came out in full strength. The need to give the much needed match practice and confidence to your top players was on their mind. Openers Tharanga and Dilshan made good use of the game as they went on to complete centuries and in the process stringed together a record breaking partnership. More importantly it would have increased the confidence of Tharanga and Dilshan. A good start is always very important-whether you are batting or bowling. Apart from giving you the early advantage it also lifts the morale of the team.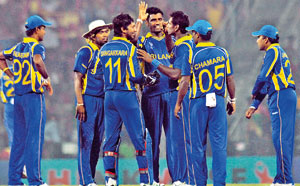 Lankans seem a confident lot but, there are a few niggles that need urgent repair. - Pic by Sanka Vidanagama.
Upul Tharanga did very well to bat for over 30 overs. As I mentioned earlier Tharanga needs to bat through the innings and Sri Lanka has to build the innings around Tharanga.His presence in the middle is very vital and will help him to guide the rest of the Lankan batting.Dilshan on the other hand came to the party at the correct time. It was only a couple of days ago that his name was dragged into a 'doping test' scandal and rumors were doing the rounds that Dilshan had tested positive etc. How well he responded to these allegations --a smashing century that is certain to get most opposition teams thinking fast.
He looked to be in terrific touch and was middling the ball very well right from the beginning. This is exactly what the team needs from Dilshan. Apart from the runs he scores, the manner he accumulates them will disintegrate the opposition to a great extent.Dilshan's talent is unbelievable. He can open or bat in the middle order. If you need him to bowl he can turn his arm successfully whether it's spinners or for that matter medium pace. At the nets he has even tried bowling medium pace, quiet successfully.
When it comes to fielding apart from wicket keeping he can field in any of the specialist positions like Cover Point, Slips, Short leg etc. He is any Captains dream. Not only on the field even off the field he is in the thick of things most of the time, a wonderful player, great allrounder and someone who you will truly enjoy to be with.
After smashing a century Dilshan rolled his arm over to capture four wickets and was very unfortunate to have missed out on a hat-trick. The ever reliable Mahela Jayawardene grassed the catch after holding on to a brilliant catch in the earlier delivery. If Jayawardene held on to the catch it would have given Dilhan not only a hat-trick in the World Cup but also the opportunity to achieve a rare feat of being the first player to score a century and claim a hat-trick in a limited-overs-game.
Chasing over 300 runs was not going to be any easy task for Zimbabwe. However they got off to a good start and at one stage were 125 for 1 wicket.Sangakkara was a worried captain at that stage and must have been concerned also about Malinga who looked to be off colour on that day.