The Lankan outfit is being very modest. In their last exchange of views with mainly the local media, they very stubbornly tore away their tag 'favourites'. They termed it as a tag pinned on them by some ex-cricketers who were trying to make an impression on their TV chats and the media which always want to stick something on some one.
Six days hence they will be on to the real one and are flexing their muscles at present, yet, they want to go as any other team in the fray but not as 'favourites'. Veteran Muttiah Muralitharan who has seen it all more than the others said he would be very comfortable if the Lankans were tagged as underdogs. He said the favourite tag was put on them only in Sri Lanka but overseas it was India, Australia or South Africa that the pundits had been talking about.
Still at this end, being Sri Lankans and yearning to see the Lankans do it for the second time, we on this side of the fence would like to tag the Lankan cricket team as the favourites. Just imagine if the Lankan media in toto tagged India or any other team as favourites and gave ours a lukewarm treatment, the cricketers call may have been different.
Sangakkara delved into the 'favourite tag'. He said "You grade the teams in your newspapers and TV channels and grade us as the favourites. Just because you grade us we cannot win. We the team, on our own should be able to come to the conclusion that we are the best and must convince ourselves that we can go for the goal and we can achieve it.
"To get there, our preparations should be good and the pattern of play should be good while we maintain a very high standard of cricket. That is in the first round. Once you come into the second round there are only three matches. You may play your best cricket in the first round, but the second round is very crucial. Once you arrive at the second round we must start from the beginning and forge ahead.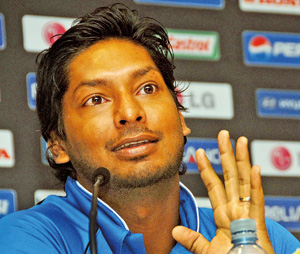 Lankan captain stressed that he and his side should not take the entirety of the tournament into their heads, but should break it into smaller challenges and then try to accomplish them
"We are very relaxed as a team and we understand what we have to do. This is quite a different team with some of the legends in the game are not there on the stage and there is a youthful look about the team. Hopefully, we can go in this time with more energy and more enthusiasm".
Asked how confident he was as captain with the combinations that Sri Lanka possessed for this World Cup, Sangakkara said: "We are satisfied with our combinations and the major part of our bowling attack is set and anyway with any of the combinations we have at hand we should be able to do well".
Commenting on Sri Lanka's chances at this tournament, Sangakkara said, "With the current format, once you get into the quarters, everything is set as there is elimination. We cannot underestimate any team and we must win our first match and then start working from that point onwards."
Nevertheless Sangakkara reiterated that not being able to play on the World Cup surfaces proper was a concern to him. But, he stressed that at Hambantota Sri Lanka will only play against Canada. "Yet against a side like Canada we should be able to beat them on any track, purely on a superior mental status. So we must not get overly perturbed on the state of the Hambantota surface and if we can play even close to our true potential we should be in a position to beat Canada in that game."
Then the Lankan captain stressed that he and his side should not take the entirety of the tournament into their heads, but should break it into smaller challenges and then try to accomplish them. "Once you come into the quarters, it's a three game tournament," he said.
Going back into the past, Sangakkara said that watching the cup winning '96 team was joy. That team had a good batting line-up along with a good bowling combination which had two good off spinners and a left arm spinner along with two quality fast bowlers. But, lamented that we should have won the 2003 semi-final against the ultimate cup winners Australia. "It was a disappointing game. Only 212 to chase and we would get that nine times out of ten".
Now there is no time for other reversals. Now the wick is lit and the countdown is on. It is no secret that captain had got the combination that he is most comfortable with and the wins against Australia and the West Indies should have given the team the much needed impetus to drive up their mental status.
In all counts, Sri Lanka has a good side for the 2011 tournament – a team that is propped at second in the ICC rankings.
They should be able to take up the challenge positively. It also must be reiterated that since 1995 the Lankans have been big time players. Since Sri Lanka won the Pakistan ODI rubber 2-1 against Pakistan in 1995, Sri Lanka has won or drawn a rubber or a tournament on 51 occasions. The rest of the cricketing world at this time has won only on 44 occasions when Sri Lanka has been in the fray.
Besides that, since the '96 World Cup, Sri Lanka has failed to come to the semi-final stage of the World Cup only in 1999 -- that was in England. This means the Lankans inherently are big time players so what's wrong in calling them favourites while playing mostly in their own backyard.