How to win the World Cup
In 1996 when we won the World Cup, not only the players but also all Sri Lankans were happy and made merry for a long period of time. All of us are waiting to see that our lads repeat the same feat on Saturday, April 2, 2011. That will be a day of great joy and a Red Letter Day for our country and to all Sri Lankans, when we look at our team and the conditions we are playing it, it is a golden opportunity for our lads. Hope they will not let go of this rare opportunity.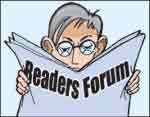 Now our selectors have finalized the final fifteen. So we have to make use of them to win this prestigious World Cup. One thing is sure. It's no easy task. No team will allow us to beat them easily. Therefore our lads will have to put their heart and soul to play every game. All the players should know their responsibilities and deliver the goods accordingly.
From now onwards our team must plan out a strategy to bring this Cup to our motherland. There must not be any injuries in the team. All the players must be fit and they should be in good health. That is very important to play this game. Among the players unity is very essential and it should prevail throughout the tournament. If our players are divided we will fall and we will miss the World Cup. Every player must do his part to his very best. No batsman can throw his wicket, especially at crucial moments. Also when a batsman is on top form he should not gift his wickets to the opponents. Staying at the wicket until the end is very necessary. They have to make sure that they do not get run out. Bowlers have to bowl line and length all the time. There cannot be any wides or no balls, If a team bowls too many wides or no balls, that team will not succeed. If they do that they are gifting extra runs and extra balls to the other side.
Our fielding has to be excellent. Our fielders will have to be alert on the field from start to end. They cannot afford to miss a single catch or run out. Even every half chance has to be taken. When you field like a champion side your opponents are always under pressure. According to my opinion Sri Lanka has the best fielding side. We must make sure of that disadvantage to carry all before us.
Before we go for every match our players should make a study of all the strong and weak points of top class batsmen through technology. Then we can attack them accordingly. That will help us to topple any good batsmen. This is the way we can restrict any batting line-up to a modest total.
Dear National Cricketers we are all behind you. Our blessings are with you. Show your colours and keep our Lion Flag flying. We have the talent and the will power to do so. Now it is up to you to go to the middle and fight it out.
Please remember that there are no short cuts to success. Your hard work, dedication and commitment will help Sri Lanka to conquer the World Cricket plum. My best wishes to our Lion Hearted cricketers to be at their very best during the ICC World Cup Tournament.
-Rev. Bro Nimal Gurusinghe FSC De La Salle Brothers, 130 De La Salle Street, Colombo 15
---
Visit Football House
I am constrained to make some comments and observations on the views expressed by Mr. M.A. Issadeen in the "Readers Forum" in the Sunday Times of January 23 2011. As a person who has been actively in the activities of the CFA and FFSL from the late 70s, I was much amused and mildly piqued by the convoluted and disparaging comments made by Mr. Issadeen. It is manifestly and abundantly clear that Mr. Issadeen apparently is labouring under a personal grievance and has attempted painstakingly to take away the credit due to Mr. Manilal Fernando on his appointment to the Executive Committee of the FIFA.
While regrettably Mr. Issadeen has glibly made subtle insinuations as well as sweeping statements with disingenuous reasoning these can neither be ignored nor condoned by the Soccer loving public of Sri Lanka. Will Mr. Issadeen accept that when Mr. Manilal took over the administration, the affairs of the Association were in a deplorable state and that there was no semblance of accountability and transparency in the conduct of the affairs of the Federation. Accounts were duly audited and these were submitted regularly to the sports ministry.
Since Mr. Issadeen has refered to the confrontation with Mr. Neville Abeygunawardena, it is relevant to clear any misconception in respect of his subtle insinuations. When thelate Mr. Abeygunawardena was regularly writing articles defaming Manilal he was reluctantly compelled to seek legal redress. Consequently a case was filed in the Colombo District Court for defamation. While the case was progressing Mr. Abeygunawardena was affected by a terminal disease. With exemplary humane consideration and compassion he helped Mr. Abeygunewardena to proceed to India for treatment with expenses paid from Manilal's personal funds. The family of Mr. Abeygunewardena remain ever grateful for this magnanimous gesture.
While Mr. Issadeen laments that there has been no significant improvement in Soccer despite the large sums of money flowing in and infrastructure development is he aware that when Manilal initially took over, the reins of our Soccer was not even up to Asian standards. Soccer since has experienced the normal ups and downs like any other sport but with encouraging signs of development. With reference to the 'Poor players' and Mr. Issadeen's concern about their welfare, I request him to visit the 'Football House' and ascertain for himself the various welfare measures, rehabilitation schemes and monetary benefits made available to soccer players. I move freely with National and club Soccer players and I am personally aware of their administration for Manilal and their remarkable sence of gratitude.
I must emphatically assert that Manilal has never attempted to make out that when he has so far achieved is not due solely to his efforts. He has persistently maintained that it is attributed to the unity of efforts of the officials and the players which is a manifestation of success through united efforts.
S. Jayawardena, Lake View, Madapatha, Piliyandala.