The Colombo Rowing Club swept the boards at Bolgoda by emerging champions in the men's and women's categories at the annual Amateur Rowing Association of the East (ARAE) regatta event held at the Bolgoda Lake.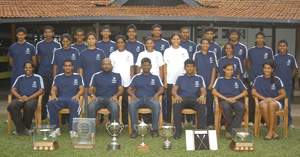 The Colombo Rowing Club proudly poses for a ceremonial picture with their coaches after receiving the trophies.
The two teams did it in style with the men's team taking the prestigious Hooghly Cup while the women's team lifted the Adyar Cup. The annual ARAE regatta, as the event is more commonly known, brings together a number of clubs from the Asian region such as the Calcutta, Madras, Karachi, Singapore, Hong Kong and Manila to name a few.
This year the event saw the participation of international teams from India, Pakistan, Singapore, Philippines and Dubai together with Sri Lanka. Over 10 clubs took part in this three day regatta rowed over a 1000meter course in the rough waters of BolgodThe CRC men's team brought the Hooghly Challenge Cup after a lapse of 15 years which they last won in 1996. They also won the mainstay of the regatta, the prestigious Willingdon fours for the men's coxed fours event, as well as the Macklin Sculls for the men's single sculls.
The Macklin Sculls event was lifted after a lapse of 37 years have won way back in 1974. They also lifted the recently introduced Phadnis Salva Trophy for men's Double Sculls. The women's team did equally well by winning the Karachi Rowing Cup for Sculls, FEARA-ARAE Karachi Trophy for the double sculls and the MBC Trophy for the fours while the Adyar Cuo was won for the first time.
In all the Colombo men's and women's crew walked away with six out of the eight trophies on offer proving itself as a premier rowing institution in the region. It was also one of the best performances by a crew at an ARAE ever.
According to an official the ARAE, conceived in 1933, and turned into a regional competition as early as 1935 when the viceroy of India, the Earl of Willingdon, donated the now famous trophy that bears his name, is sometimes referred to as the Henley of the East in comparison to the famous annual regatta in Henley, England.
The 69th annual ARAE/FEARA regatta was sponsored by t-sips, an Expo Lanka Teas brand and was hosted by the Bolgoda Lake Rowing Club (BLRC).