The postponed 84th National Men's and Women's National Boxing Championships 2010 organized by the Amateur Boxing Association is now scheduled to be held from February 16 to 19 at the Sugathadasa Indoor Stadium.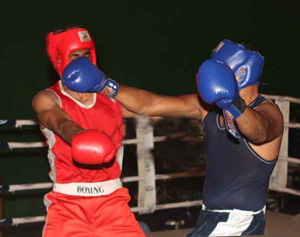 The meet which was scheduled to be held in November 2010 was postponed due to the Commonwealth Games and the Asian Games being held during this period. Defending champions Army who have won the national title in 34 occasions will come out once again as the favourite while Slimline who were the runners up will be looking to KO the soldiers.
But the two favourites will face stiff opposition from the Navy, Air Force and Police. Pugilists from MAS Southern BC, Nugegoda BC, Line Clothing BC, Kingswood BC, Thurlie BC, Vidyarathana BC, Unichela BC and Vidyartha BC will also be facing the starter.Approximately 140 boxers are down to contest with 110 in the men's and 40 in the women's categories. The previous championship saw Army taking the title for the most successful club.
The winner of the most scientific boxer for men was R.G.S. Kumarasinghe of Navy BC while M.T. Dakshilath was adjudged the best loser. In the women's category Nilimini Jayasinghe of Slimline BC was adjudged the most outstanding boxer while W.A.S. Santhika of Police and B.G. Mihirani were adjudged the best boxer and loser respectively.
The preliminary rounds will take place during the first three days which will be held in two sessions from 2.30 p.m. to 5.30 p.m. and 6.30 p.m. to 9.30 p.m. The finals are scheduled to be held on February 19 from 4.00 p.m. onwards.
Along with the championships the ABA has made arrangements to conduct a One-Star Referring and Judging Examination which will be held concurrently. This is the first time in seven years that the ABA will be conducting such an exam.
The examination will be graced by Terry Smith, chairman of the International Boxing Association (AIBA) Refeering and Judging Commission. Smith will be accompanied by Sukku Kang, International Technical Officer for AIBA who together will also conduct a one day workshop on February 15.
The chief guest at the finals will be Dian Gomes the former President of the ABA.