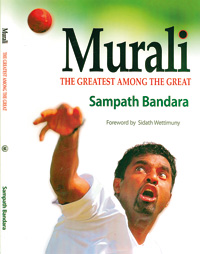 Recently I was surprised to see the couple Muttiah Muralitharan and his wife Madhimalar serenely doing their shopping at a leading Colombo convenient store. I thought to myself with the World Cup around the corner this great man has the time to spend with his family and at that quality time.
Like wise it was very pleasant to read through Sampath Bandara's effort to depict the greatness of the Lankan off-spinner who re-wrote the record books and cut a niche for himself that may not be taken off arguably forever in Test cricket.
Though few in pages Bandara has taken a lot of pains and gone through the life of Murali from the very beginning until his 800th wicket in Test cricket through words, pictures and statistics to back them.
Besides that he also had touched on the subjects of the chucking affairs with Hair and Emerson and the unstinted support that Murali received from the Lankan forum.
Adding to his effort is the foreword by the former Sri Lanka opening batsman and respected cricket administrator Sidath Wettimuny who is truly amazed by Murali's capacity to contribute on and off the field.
I feel it is a book that should be in the possession of all collectors of cricket literature and schoolboy cricketers who want to pursue a career in the game they love.
- S.R. Pathiravithana