St. Joseph's College and Visakha Vidyalaya emerged boys and girls champion teams at the Novices Aquatic Championship concluded at Ananda College Pool yesterday.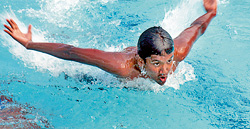 Action from the Novices Aquatic Championships - Pic by Sanka Vidanagama
St. Joseph's collected 152 points that was clearly ahead of Lyceum International School, Nugegoda who could collect only 97 points. St. Peter's College finished third with 83 points. Visakha Vidyalaya collected 162 points with Sirimavo Bandaranaike Balika Vidyalaya closely behind with 128 points and Anula Vidyalaya finished third with 108 points.
St. Joseph's won in the diving events also to be the leaders with 66 points while Royal College was second with 57 points and Angel Aquatic Academy was third with 55 points. Bishops finished first in the diving event with 34 points and Visakha were second with 22 points.
There were some close finishes in the events for the under-12 and 14 age categories while the under-19 age category saw clear winners with the leaders finishing well in front.There were also two disqualifications with one swimming beginning the individual medal event with the free style stroke but he finished the race first.
Another disqualification was due to faulty timing and the swimmer did not want to re-swim the event.
Sarah Riza of Sirimavo Bandaranaike Balika finished first in the girls' 100 metres free style event in an impressive time of 1m. 22.35 seconds.
Joshua Karpinski of Lyceum International, Nugegoda won the boys' 100 metres free style event in a time of 1m. 06.52 seconds.