St Sebastian's along with Ananda and Thurstan recorded outright wins in their Under 19 inter-school matches which were concluded at De Zoysa Stadium in Moratuwa, Ananda Mawatha and Thurstan ground respectively yesterday.
St Sebastian's and Ananda coasted to their sixth wins of the season with Sebs outclassing St Sylvester's by an innings and 20 runs, Ananda overcoming Dharmaraja by eight wickets and Thurstan securing their third win by defeating Kingswood by an innings and 33 runs.
It was St Sebastian's second successive win having four days ago defeated Royal by six wickets. The writing was on the wall for the Sylvestrians when they were bowled out for 104 in the first innings.
Made to follow on despite some resistance coming from a 55 runs stand for the ninth wicket between Sumeda Dissanayake and Dushan Malalasena they succumbed being bowled out for 147. In the process Sebs left arm pacie Wishwa Fernando reached the 50 wicket mark.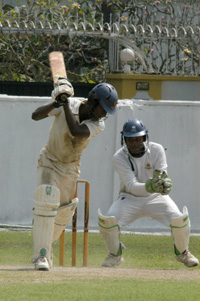 Mahesh Dunukara of Kingswood IS caught by Thurstan's wicket-keeper Supun Navaratne. Pic by Ranjith Perera
Ananda too faced some resistance from Dharmaraja though being beaten. Dharmarajah managed to avoid an innings defeat. They resuming from their overnight score of 109 for 4 but, collapsed to a score of 127 with Ruvinda Shamen doing the damage by bagging 7 for 56.
Dharmaraja batting the second time too underwent a minor collapse and struggling on 112 for 6. A knock of 69 from Hemal Munaweera delayed an early win for Ananda while spinner Sachitra Perera did the early damage.
At Thurstan ground Thurstan after bowling out Kingswood for 118 resuming from their overnight score of 121 for 3 went on to make 231 for 8 before declaring. Kingswood batting the second time with a deficit of 113 runs fared no better when they were bundled out for meager 80.
At Darley Road the encounter between St Joseph's and St Benedict's fizzled out to a draw. St Benedict's resuming their inning on day two from 87 for 6 made a grand recovery thanks to a 65 coming from Eranga Ratnayake to make a decent score of 205.
Bens being forced to bat again was saved by Rukshan Weerasinghe ton when they were struggling on 64 for 4 at one stage. Rukshan's ton against the Joes was after three decades. The inter-school encounter between Royal and Wesley concluded at Reid Avenue ended in a thrilling draw. Wesley dominated the proceedings on day one but Royal fought back on day two to make it even and the match could have gone either way.
DSS were in a strong position after restricting St Anthony's Katugastota to a score of 144 by ending the first day's play on 152 for 5 just in their inter-school match which began at Wijerama Mawatha yesterday.
Exchanges were even on the opening day of the match between Nalanda and Mahanama Colombo played at the FTZ ground in Katunayake yesterday. Nalanda taking first lease of the wicket made 203 and Mahanama in reply ended on 109 for 3.
At Moratuwa – St Sebastian's vs St Sylvester's
St Sebastian's 271 (Oshada Fernando 85, Charith Fernando 40, Luke Jayadeva 33, Anuk de Alwis 33, Wishwa Fernando 19 n.o.: S. Dissanayake 3 for 47, R. Ekanayake 2 for 22, N. Kandarage 2 for 67, N. Wijesinghe 2 for 80)
St Sylvester's (66/7 overnight) 104 (Dushan Malalasena 22, Ruwantha Ekanayake 18: Wishwa Fernando 5 for 26, Rusiru Gunatilleke 2 for 9) and 147 (Menuka Nanayakkara 35, Sumeda Dissanayake 32, Dushan Malalasena 28, Ruwantha Ekanayake 21: Marlan Fernando 3 for 38, Amila Aponso 2 for 20, Wishwa Fernando 2 for 32)
At Ananda Mawatha – Ananda vs Dharmaraja
Ananda 287 for 6 declared (Thushara Samarakoon 72, Rasith Jayaratne 70, Geshan Wimaladharma 44, Dhanuka Madushan 39, Pasindu Madushan 23 n.o.: Aravinda Premaratne 3 for 67, Sineth Lanka 2 for 115) and 45 for 2 .
Dharmarajah (109/4 overnight) 127 (Sandun Weerakkody 38, Sasith Gunasekera 28: Ruvinda Shamen 7 for 56, Sachitra Perera 2 for 14) and 203 (Hemal Munaweera 69, Sandun Weerakkody 31, Mayura Ratnayake 25 n.o.: Sachitra Perera 5 for 42, Ruvinda Shamen 2 for 92)
At Thurstan ground – Thurstan vs Kingswood
Kingswood 118 (T. Weeratunga 26, T. Gunasekera 25, C. Walisundara 15: Rajitha Perera 3 for 15, Praboda Arthavidu 2 for 16, Sachith Dias 2 for 34) and 80 (M. Dunukara 28: Praboda Arthavidu 3 for 17, Kavin Silva 2 for 10)
Thurstan (121/3 overnight) 231 for 8 declared (Harith Dias 49, Sajeewa Salgado 34, Ashan Wanigaratne 34, Supun Navaratne 28: A. Hettiarachchi 4 for 92, V. Madushan 2 for 69)
At Darley Road – St Joseph's vs St Benedict's
St Joseph's 305 for 5 declared (Sadeera Samarawickrema 139, Vidusha Jayasinghe 38, Kevin Bernadus 15, Chathuranga Kumara 23 n.o.: Jason Perera 2 for 43, Chandana Jayasanka 2 for 60)
St Benedict's (87/6 overnight) 205 (Eranga Ratnayake 65, Sameera Sandamal 31, Jason Perera 30, Roy Sheran 26, Shannon Patterson 20: Supechala Jayatileke 3 for 32, Rosco Thattil 2 for 35, Chathuranga Kumara 2 for 53) and 170 for 7 (Rukshan Weerasinghe 100, Arjuna Perera 36, Eranga Ratnayake 16: Supechala Jayatileke 3 for 52)
At Reid Avenue – Royal vs Wesley
Royal 115 (Shehan Kumarasiri 32, Bhanuka Rajapakse 22, Ramith Rambukwella 18: Ashel Kariyawasam 3 for 8, Basith Muzammil 3 for 14, Daniel Bartholomuesz 2 for 24) and (34/3 overnight) 256 (Milan Abeysekera 81, Sampath de Silva 39, Waruna Dissanayake 36, Devin Pathmanathan 36, Imal Liyanage 30: Sachin Jayawardena 4 for 54, Daniel Bartholomuesz 3 for 31, Raninda Sooriyakumara 2 for 30)
Wesley 202 (Sadeem Thawfeeq 61, Ashen Fonseka 58, Raninda Sooriyakumar 38, Lahiru Perera 19, Tharindu Karunaratne 19: Devin Pathmanathan 5 for 5 for 54, Gaurav Deva 3 for 12) and 125 for 9 (Ashen Fonseka 33, Ashel Kariyawasam 25: Devin Pathmanathan 4 for 26, Imran Khan 3 for 25, Ramith Rambukwella 2 for 18)
At Wijerama Mawatha – DSS vs St Anthony's
K'tota
St Anthony's 144 (Yohan Woods 34, Aruna Bandara 31, Nimesh Gunasinghe 21: Vidura Fernando 3 for 25, Mohamed Ijaz 2 for 23, Heshan Perera 2 for 26, Ushantha Perera 2 for 50)
DSS 152 for 5 (Lasith Abeyratne 44, Chamod Wickremasinghe 38, Ushantha Perera 23 n.o.: Thusan Hettige 2 for 46)
At FTZ Katunayake – Nalanda vs Mahanama Colombo
Nalanda 203 (Sineth Gunawardena 77, Malinga Vimukthi 34, Gihan Wickramarachchi 28: Chathura Wanniarachchi 3 for 54)
Mahanama 109 for 3 (Hashan Perera 47, Duleeka Tissakuttige 25, Chathura Jayasinghe 18: Koshan Dhanushka 2 for 44)