The heat is on, yet the jigsaw is in disarray. Skipper Kumar Sangakkara is rather tentative about not having the proper opportunities to get accustomed to and have match practice on the newly laid World Cup wickets.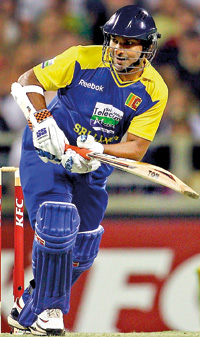 There are questions galore, but who could take us – the mundane people -- across the shore to give us an insight to what lies ahead. We did not have to walk the length and breadth of the island to find a person who would take us along. Sidath Wettimuny – former cricketer, former administrator and former selector -- is a person who could read the game and its implications and provide solutions to any problem.First the Sunday Times asked Wettimuny what he thought of the final composition of the fifteen players and also going in as one of the favourites, unlike their entry in 1996 where no one expected Sri Lanka to walk away with the plum.
The veteran cricketer said: "One cannot complain about the composition. Yes, one feels sad about the omission of Suraj Randiv, however the logic must be that they needed a left arm leg spinner in the side. They got a good balanced bowling outfit.
"You can always pick holes in a team. Yet overall it is a good squad. Once again in the batting line up, I would have liked to see Thilina Kandamby. He is a guy who can work the ball around like what Arjuna did. That is something that we are going to miss. "However overall the side is okay; the key will be what the playing composition would be and when it comes to the playing composition we have a very good bowling outfit which can be used depending on the opposition that we are facing."
For example, Wettimuny explained, when it came to sides like India; Sri Lanka has the combination of Dilhara Fernando, Lasith Malinga and Nuwan Kulasekera while when it comes to sides like Australia, South Africa or may be England, Sri Lanka has a good option of spin which includes Muttiah Muralitharan and Ajantha Mendis.
Still Sri Lanka's batting worried the former Sri Lanka opener. "It's the lack of depth that worries me. We will need to be clever when it comes to handling of our batting. I feel Thilan Samaraweera will have to play an important part in this endeavour. Sangakkara and Mahela are batting like world champions.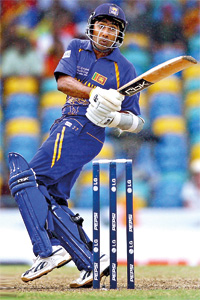 "Yet we cannot afford to expose them too early if the two openers don't do well. Going by the record we have batters like Chamara Silva and Chamara Kapugedera who just have not delivered to expectations. When you look at Chamara Kapugedera, everybody admits that he has great talent. Even I think that he has great potential. But, he has failed to deliver to expectations. Now the question is. Is he going to remain where he is or do you move him like the way Marvan was moved from the middle order to the openers berth? We've got to do something, rather than say he bats here and he is not delivering," he said.
Then we asked Wettimuny if people would be waiting to see Samaraweera batting at the death and delivering. Is Samaraweera a batsman who could hit the gas pedal in the last ten overs? The answer came in this manner: "No I would use him as a shuttler. He needs to improvise a bit, like we improvised in 1996 with 'Kalu' and Sanath.
"My thinking is that if we lose an early wicket in the first ten overs against sides like Australia, South Africa or even England where they have decent pace attacks send Samaraweera at number three. If the openers bat for more than ten overs the issue does not arise. What happens is if we lose two early wickets and then lose Sanga or Mahela, we are exposed. Reliability is the key.
"In 1996, Sri Lanka had Hashan, Roshan or even Kumar Dharmasena – when he came into bat one felt hey! This chap can pull things around. Then we had Vaas batting at number nine or ten. That side had depth. That is the comparison. When you take the present bowling composition, it may be marginally better, but, the depth in the batting is crucial. That is what worries me. We are over burdening Sanga and Mahela," Wettimuny said.
The Sunday Times pointed out that in 1996 the Lankans had the batting where they had the wherewithal to cushion their best batsman Aravinda de Silva from the top as well as from the bottom so that he did not have much pressure at the crease when it came to his turn. Wettimuny said: "That is where our problem is. We do not have it. However, now that the side has been selected we have to go with it. They will have to figure out a method of making sure we have two other batsmen coming good earlier on. If Dilshan and Tharanga who is batting very freely now could strike form early we are going to give everybody a run".
Thereafter Wettimuny, in answer to the question whether Sri Lanka has maximized on the home conditions, said: "The home conditions are not purely the wicket. The home condition consists of environment, climate and other things along with wickets. I am hoping that coming into this tournament, our guys will get some pre-match practice on the newly laid wickets and I am also hoping that the wickets are not too different to what they were before.
"I cannot imagine them changing character completely from a slow low wicket to a fast and bouncy wicket. If that happens we are exposed to a bit of trouble. Yes, during the West Indian Test match which was played at the Premadasa Stadium, the West Indian fast bowlers got some purchase, but, I learned that they were not going to be the wickets that are laid out for the World Cup. So let's hope that the wicket will be conducive to the Lankan type of cricket.
"Nevertheless playing at home we have a definite psychological advantage. Besides that, whenever we play in the sub-continent and if we are playing in India, Bangladesh or Pakistan and in that game if the home country is not involved Sri Lanka get the crowed support. It was very evident during the World Cup final in Lahore in 1996."
Once again we popped the question on the newly-laid wickets pointing out that since the Lankan team would not exactly know the quantity of the wickets, they would be under some indecisiveness. Wettimuny answered: "Yes, there would be an element of indecisiveness, but if they have some practice at the places where they are going to play and they know what the home curators are doing, they should be able to cope. From what I have learned the Pallekelle wicket is a very good one, but Hambantota is yet unknown. However, it will be interesting to see how the wickets are going to play. I am sure they get some exposure to the wickets before the matches begin. Having said that I stress that finally it all depends on the quality of cricket we play and the final outcome of our performance will largely depend upon that."
The Sunday Times then pointed out that the Sri Lankans are generally big time players. From 1995 there have been many instances that Sri Lankans have got into the final or the semi-finals barring the 1999 world cup tournament where we had an early exit.
"As you show it, there is no reason that we cannot deliver at this 2011 World Cup. We just had good series against Australia and the West Indies. In the world Cup early momentum is key. Like in 1996, the first game that we played against Kenya, we played brilliantly and we carried that momentum there on. Yet I guess the prevailing weather would also come in as a factor like it spoiled our endeavour in the World Cup final in the West Indies in 2007," Wettimuny concluded.