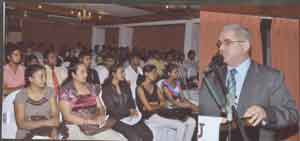 Mr. Mathew Collins, the Director of Fulham and Chelsea College (www.fccollege.co.uk) in London, UK and the founder of Ambler Collins, and Mrs. Kim Bailey, the Marketing & Projects Director of FC College conducted a free seminar on study opportunities in the UK for Sri Lankan students at the Golden Star Hotel in Negombo. The Event was organized by the LLIIS (London Lanka Institute of International Studies) in Negombo, the Master Agent for FCC of 89/1/1, Main Street, Negombo.
It was mentioned that Fulham & Chelsea College in Central London is the TOP ABE MANAGEMENT COLLEGE in the World for Academic results and have 19 worldwide 1st prize winners 2005-2010. Further the College Director mentioned that if any student wants to study with FCC they can submit their Applications to LLIIS in Negombo.
Here Mr. Mathew addressing the gathering.