PATHE Academy www.patheacademy.org, a pioneer and the leader in private Medical Education in Sri Lanka, in consultation with former ERPM/ ACT 16 examination staff and consultants in the relevant field, will be shortly commencing its second Batch of the preparation Programme for the Examination for Registration to Practice Medicine in Sri Lanka (ERPM)- (formerly ACT 16) after a very successful Pilot Batch of students. The ERPM Exam, which is conducted by Sri Lanka Medical Council (SLMC) in conjunction with the University Grants Commission (UGC), is a pre-requisite for the Foreign Medical Graduates (FMGs) intending to practise Medicine in Sri Lanka.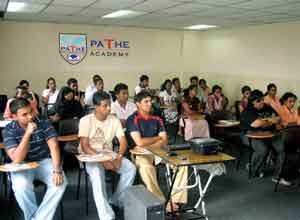 Part A of this Examination was conducted for the first time according to the new format in November 2010. A preparatory programme was conducted at PATHE since August 2010 which successfully completed with Mock Exams on each of the 5 papers where students were placed in a real exam scenario and where results of the Mock Exams revealed the projected marks a student could expect at the real exam. All Classes consisted of discussion of Multiple Choice Questions with True/ False options, exactly the kind that the student faces at the real exam.
This gave the students all the required exposure to the exam format. Classes were conducted by a team of experts comprising of experienced Consultants, Senior Lecturers attached to medical faculties and Senior Registrars. The students received invaluable subject information and tips to approach questions and various cases from these Lecturers. Due to this, PATHE is proud to have excellent results from the students. 20% of the students cleared all 5 papers whereas almost 90% have passed 3 or more papers, which in itself is a great testimonial about the focused and accurate method of conducting classes and approaching the exam by PATHE.
Class notes and Tutorials with questions are personally formulated by our brilliant team of Lecturers, who with their long years of experience in the theoretical and clinical field are the most appropriate Team for guiding the budding Foreign Medical Graduates (FMGs) to excel at this Exam. All classes are conducted at PATHE Academy Study Centre, conveniently located at Liberty Plaza, No: 250 2/1, R.A De Mel Mawatha, Colombo-3 (Telephone: 0114642600).
This comprehensive programme is designed to cover the 4 specialty and 1 combined MCQ papers of the Part A Examination. The teaching approach comprises of a platform where MCQs based on the module system covers all theoretical aspects for Part A Examination.
The programme prepares for the assessment of intellectual skills of enquiry, clinical reasoning, critical thinking and decision making; possessing sufficient knowledge of the basic and clinical sciences, and an understanding of the underlying principles of scientific method; and the ability to create a differential diagnosis and rationalize a treatment plan for common clinical situations prevalent in Sri Lanka. Overall, the programme provides necessary skills and updates the knowledge of the student to face the exam confidently.