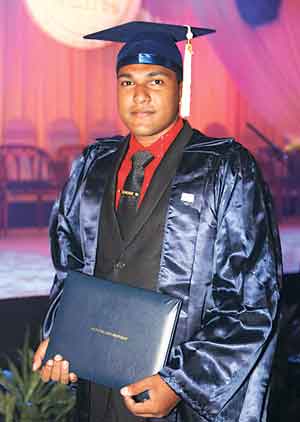 Pathum Kodituwakku
Name: Pathum Kodituwakku
Age: 20 years
School: Ananda College - Colombo 10
Educational Qualifications: BBA International Business and Management, Northwood University USA, CIMA (UK) Exam Completed
Employer: Uniliver Sri Lanka
My Success Story - Bachelor's Degree at 19
I studied at Ananda College and got 10As for my Local O/Level exams. I got excellent results for my A/Levels and was even selected to the Colombo University degree programme. At the age of 19 when all my friends are just thinking of getting university acceptance, now I already have a Business Degree (BBA in International Business & Management dual major) from a leading international university. I consider this as the biggest achievement in my life.
My past - How I achieved success?
I considered myself an all-round student from my School days. I won the "Ananda Minimuthu" award in 2008, which is given to one student from each stream for Academic excellence at school. As soon as I completed my school studies, I started following CIMA (UK) qualification and successfully completed CIMA Managerial level. I wanted to become a business strategist and work for a multinational company, and found that I needed more interactive skills, knowledge and expertise which I didn't have at that time. Simply put I required the maturity of a university education. I understood the difference between academic qualifications and professional qualifications. I wanted to be best in both.
CIMA + American Business Degree
I looked at all the university options in Sri Lanka. After a thorough research I selected the American Business Degree programme offered by Northwood University at ANC Education. Northwood University has more than 50 years of history and offers many single and double degrees. They had the exact degree that I was looking for - BBA (Bachelor of Business Administration) in International Business & Management. This dual degree programme changed my life forever. The knowledge and exposure from Northwood University Business Degree helped me to become a complete person rather than just a professionally qualified person. With Northwood University and CIMA (UK) dual programme I was able to join the 3rd year of the university degree directly. The time and cost saving was a great advantage for me. I sincerely thank ANC Education and Northwood University for this.
True University experience
ANC gave me the best university experience during my study period. I treasured every moment of my stay at ANC. The lecture panel consisted of PhD qualified American and American trained professors who are experts in their areas. They made the subject matter simple and very interesting. Extra-curricular activities, overseas business trips, activities with clubs and societies all gave the opportunity to experience real university life. This was immensely helpful in developing my communication skills and social networking skills. Most importantly it taught me how to do business successfully and professionally.
Work at Uniliver - youngest ever to be selected
After my graduation from Northwood University, I was selected to the best internship programme in Sri Lanka, the Unilever internship. I was 19 years old and was the youngest ever to get selected. I was assigned to the supply chain - demand planning function and was assigned some important projects. After 6 months of successful performance, I was offered employment at Unilever Sri Lanka.
My future plans
And my next step is to do an MBA at a recognized university in Sri Lanka or overseas after a few of years of work experience. I plan to stay in Sri Lanka for a few more years. Even if I go abroad for further education I'll definitely return to Sri Lanka in 3-5 years. The war is over, stock markets are picking up, tourism is picking up, foreign direct investments are flowing in, wind power projects are being set up, interest rates are running low and change is happening in Sri Lanka. World power is shifting to Asia. Sri Lanka needs more intellectuals for the economy to thrive. I consider myself as a winner.