The island of Sri Lanka is overjoyed to welcome ICAN, the International College of American Nursing! ICAN's arrival has been highly anticipated, and it is our pleasure to bring news of ICAN's work to our readers. Please see the ICAN website at www.icannursing.org
ICAN will train university-educated women to become Registered Nurses (RNs) right here in Sri Lanka. ICAN's two-year accelerated programme will create new career opportunities for Sri Lankan women. Students will get a top-rated nursing education, approved by the Sri Lankan government. Furthermore, students will be able to work all over the world, including the US and Europe!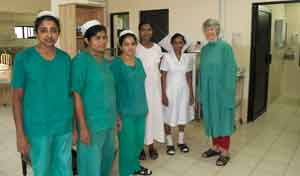 ICAN Advisor Prof. Judith McFarlane with Gampaha Hospital staff
ICAN's accelerated curriculum has been assembled by a leading American professor according to American (AACN), Sri Lankan (CCMC) and World (WHO) nursing standards. Additionally, ICAN students will have access to high-level study materials in state-of-the art training facilities, conveniently located close to Colombo. All course work and programmes will be in English, and multicultural education will prepare graduates for a variety of working environments.
ICAN will help place graduates with employers both locally and around the world, such as hospitals, pharmaceutical companies, and other health-related companies and organizations. For those seeking to work internationally, ICAN will assist graduates with visa applications to work abroad.
We encourage our readers to dismiss any concerns they may have about financing this top-rate education. All tuition payments may be deferred until graduates have a job! Furthermore, tuition payments are determined by the graduate's salary. Graduates will pay 10% of their earned income towards their tuition for no more than 10 years.
A career in nursing provides an opportunity to not only help people and save lives, but also be well rewarded financially. As an example, the average starting nursing salaryin the US isapproximately 50,000 rupees per of month. Nursing is a very noble and highly respected profession in most countries around the world. This unique opportunity offers women the opportunity to receive huge returns, both financially and personally, for a lifetime. All ICAN asks of its students is an intense dedication to study for two years, and true passion to make a difference in the lives of people.
ICAN is empowering Sri Lankan women to take charge of their futures and gain access to a professional field in high demand. This opportunity serves as positive empowerment for women and a means of financial independence. This will help not only these women and their families, but also the island of Sri Lanka, and the entire world! Over the next 10 years, estimates approximate ICAN graduates' incomes to total over US $800 million and US $80 million will reenter the Sri Lankan economy from those working abroad! ICAN graduates are expected to save over 160,000 unique lives.
ICAN could not have started in Sri Lanka without the help of the Sri LankanFirst Lady,the Sri Lankan government, and many other Sri Lankan and world leaders. Their support has been invaluable! The First Lady has graciously consented that ICAN's first campus be named Shiranthi Wickramasinghe Rajapaksa campus, located near Colombo.
We are pleased to bring news of ICAN's arrival to our readers, and it is with pleasure that we suggest you consult their website for further information at www.icannursing.org.