The time, money and effort involved in sitting for the test are worth it, as a high score fetches a seat at an IIM. The Common Aptitude Test (CAT) has proved to be a bugbear for many, but a windfall for some.
The CAT 2010 results had eight young men from different cities, all engineers, come out on top with the hundredth percentile.
Many seeking employment pursue MBA in the hunt for more lucrative opportunities. The time, money and effort involved in sitting for CAT are worth it, as a high score can mean a seat in one of the Indian Institutes of Management (IIMs) or other top business schools. Coaching centres have cashed in on this sentiment.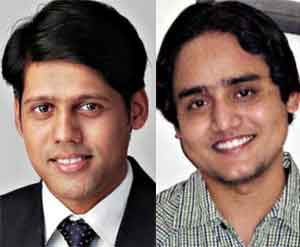 Shashank Samant and Deepak Mehta
The Hindu EducationPlus spoke to some of the young men who scored the hundredth percentile. Vidit Agarwal, Delhi, alumni of BIT Mesra:
I did my undergraduate degree in civil engineering, but want to pursue an MBA as I feel that it will help me understand the way how business processes take place. This, in turn, may help me bring improvements in the functioning of infrastructure projects, which is something I aspire to. Hence, I decided to take CAT.
This was my third attempt, and since the release of the results, I have been considering studying at the IIM in Bangalore or Kolkata. I had worked for a short while in Gammon India, and then began to work in my family business.
It was difficult to find time to study. I approached a coaching centre to be more regular in my preparations. People who take professional help when preparing for CAT usually find that even if they have not attended coaching sessions, the test series provided to them helps them get a clearer idea of how to approach the test.
Shashank Samant, IIT-Bombay:
I got a campus offer from Morgan Stanley while I was doing my undergraduate course in biotechnology. I have been working there as a quantitative analyst for about 18 months now, but I wanted to do an MBA and attempted CAT for the first time in 2008. Since then, the format changed to the online version, so I thought I would join a coaching centre to get a feel of the new system. Of course, anyone can get a good result on his own, without extra coaching.
I did a couple of mock tests, studied for a couple of days and just went ahead and took the test. I will definitely pursue my MBA in one of the top B-schools either in India or abroad.
I think that the entrance exams for admission to business schools are biased towards engineering students, particularly because they are trained for maths and data analysis, and they tend to do well in these sections of the paper. So if you are an engineer and your verbal skills are good, then sitting for the exam is a fairly straightforward affair.
Deepak Mehta, Bangalore, final year student, BITS Goa:
I started off as a computer science student, I but I was not sure what I wanted when I joined college.
After a while, I realised that I did not like technical subjects and decided to do an MBA after I graduated. I got the 100th percentile on my first try.
I went to a coaching centre to help me stay disciplined and be on schedule. I joined in mid-January and had been preparing for the CAT since then. I was able to prepare for only a short amount of time while classes were going on, but I managed to fit in about five to six hours of study during my summer holidays.
The coaching helped me be regular at studies, the course material was excellent and the test series was exhaustive. I do not think I could have achieved this result on my own, as it would have been too difficult to balance studying for college, my internship and CAT.
When I got my CAT results, I called up my father (who was sleeping) to let him know. He and my mother were very pleased.
All my friends in college came into my room and we sat up until 4 a.m. and went out for a treat the next day.-hindu.com