In football the goalkeeper plays the vital role of being the team's last line of defense on whom defenders rely on to make confident and smart decisions. All these qualities are amply evident in young M. Rizni Rafeek, the goalie for Zahira College, Colombo, who besides being blessed with natural height and agility, also has a wise head on his young shoulders.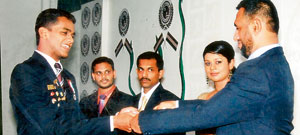 Rizni receiving the Most Outstanding Player of the year (2009/2010).
The 20-year-old first took to the sport after watching his school matches showing off their skills on the school's pitch. He was also further motivated by the stylish play of his favourite team, Manchester United, in particular the play of elegant midfielder Ryan Giggs. After joining the school team in 2003, Rizni saw his game grow in leaps and bounds under the tutelage of first, Joseph Perera and then his current coach, T. Samath. In 2007, playing in the under 16 team, Rizni saw Zahira stride to victory in both the Educational Department tournament as well as the Football Federation of Sri Lanka (FFSL) School Championship.
He added to this already outstanding year by going on to book a spot on Zahira's under 19 team which snatched up seven titles, including the ones for the FFSL and Educational Department tournaments.
His invaluable contribution in 2006 and 2007 aided him in clinching the All Island Best Goalie accolade, giving credence to his immense ability. His success, however, has not been merely limited to the school arena.
In 2008 he won a place on the Sri Lankan School team that traveled to China for the 36th Asian School tournament and repeated this accomplishment the following when he participated in the 37th edition in Thailand. He also joined the Sri Lanka Youth team that partook in AFC qualifiers in the UAE.
Rizni says he enjoys the challenge of goalkeeping, citing the unimportance people associate with the task of goal keeping as the main motivating factor for him choosing the position. "This is a thankless job but it is really one of the most important ones. That is why when I started playing football I wanted to do it, and do it perfectly," he explains.
Rizni says that developing as a goalie takes an enormous amount of hard work and dedication, and he frequently finds himself parrying away goal-bound, swerving balls during practices. After graduating from Zahira last year, Rizni is now a regular for local club side Renown FC. He says he plans to keep on growing and improving until one day, hopefully in the near future, he earns the privilege of representing Sri Lanka in the international arena.