Seven Sri Lankan Education Consultants have been officially appointed by the Australian Government's immigration authorities - Department of Immigration & Citizenship - (DIAC) attached to the Australian High Commission (AHC) in Colombo. This is to facilitate hassle free issuance of Student Visas to genuine students to undertake studies in Australia. These appointments as Streamlined Agents have been made considering many criteria that were met by these university representatives over a long period in the business.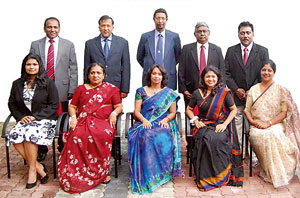 Seated L to R: Ms. Maljinee Liyanage (3WG), Mrs. Ruckmalie Jayasuriya (International Scholars Education Services) ,Mrs. Manjula Perera (International Education Consultancy) Ms. Deepamala Abysekara ( Aspiration Education), Mrs. Srimali Fernando (Edlocate) Standing L to R: Stefan Moraes (3WG), Keerthi Jayasuriya (International Scholars Education Services) S.S.Rajah (International Education Consultancy) Aith Abysekara( Aspiration Education),Mr. Vajira Wijesuriya (Edlocate)
Since signing these agreements, five of these Representatives are working collectively to develop and subscribe to a common frame of "Ethics". This is with an aim to give the best service to genuine students and the parents, thereby making sure that students achieve their primary goal of a good education in Australia. The five Representatives who have formed an alliance under the name - Streamlined Agents Collective (SAC) are;
Aspirations Education, 267/20, Samagi Mawatha, Nawala Rd., Nawala.
Edlocate - Education Australia, 79/5, Horton Place, Colombo 7
International Education Consultancy 581 1/1 Galle Rd., Wellawatta, Colombo 6.
International Scholar Educational Services - 3, Daisy Villa Avenue, Bambalapitiya, Colombo 4
3WGE - 8, Bambalapitiya Drive, Colombo 4.
SAC members represent a variety of Australian tertiary educational institutions with which they have signed direct and formal representation agreements. Thus it is most advisable for students and parents to seek assistance of such Representatives to get enrolled for a course of studies as these agents have direct links to the institutions they represent.
All SAC members are authorized by the DIAC at AHC in Colombo to handle the Pre Visa Assessment of students. Pre Visa Assessment (PVA) is normally handled by the staff of DIAC attached to AHC. This responsibility has now been delegated to these Representatives too. Granting of PVA approval enables the student to make initial payment to the educational institution, obtain Confirmation of Enrolement and undergo medical examinations. PVA involves undertaking all procedural requirements of issuing student visa by the Representatives on behalf of AHC, thus making the time frame for issuance of student visa from months to a few days. All these mean that obtaining a student visa for a student is hassle free through a SAC member and students could keep to timely enrolements.
Australian student visa processing procedures are quite complicated. Some students and parents have a wrong impression that seeking assistance of an agent involves incurring additional expenses. The SAC members will not charge any fee for consultations and counselling unlike some independent agents but only the reimbursement incurred on behalf of the student for courier and communication cost. All statutory payments are charged when such payments are due only and that too by way of bank drafts payable to institutions by their name.
The above stated facts make it quite a wise move for prospective students and their parents to meet a SAC member or if necessary meet a number of them and make a proper choice before lodging an application to undertake tertiary studies in Australia.