Progressive Academy, a leading overseas education consultancy firm announced that six students from SLIIT recently transferred to Southeast Missouri State University (SEMO) to complete their degrees in Telecommunication and Networking, Computer Science and Information Systems. This also included the first student transfer from SLIIT to SEMO for a degree in Electrical Engineering and Control Systems which currently has become a robust and thriving industry with great potential worldwide.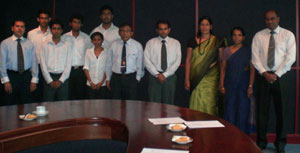 The students, who completed the first two years of their degree at SLIIT, were awarded scholarships worth US$ 3,000 from SEMO to complete the final two years of study at SEMO on the basis that a GPA of 2.5 or above is maintained.
Three students from the first batch of eight who were transferred to SEMO previously have achieved high grades during their first semester at SEMO and were qualified for the Dean's List which require a GPA of 3.5 and above. Prof. Sam Karunarathne, Chairman of SLIIT stated at a farewell organized for the second batch of students that he and his staff were delighted to hear the excellent performance of their first transfer batch and advised the second batch of students to ensure that they maintained the same excellent performance. Among the guests at the farewell were Janaka Herath - MD/CEO of Progressive Academy, Dr. Koliya Pulasingha - Dean, Academic Affairs, SLIIT, Dr. (Mrs.) Mahesha Kapurubandara - Dean Student Affairs, SLIIT, Dr. Malitha Wijesundara - Dean Electrical and Computer Engineering, SLIIT, Mrs. Deepa Liyanagma - Manager Career Guidance/ Counsellor, SLIIT.
Mr. Janaka Herath, Managing Director of Progressive Academy affirmed that the organization had achieved significant success placing fourteen transfer students from SLIIT within a very short time period of two semesters and have since then acquired the necessary access and contacts that would result in significantly large numbers of students departing to the US.
'To me, helping our students to realize their dreams of studying abroad is a rewarding process. Whether it's through managing the SEMO-SLIIT transfer programme or assisting students with direct studentships to SEMO or any other partner institutions, finding exceptional learning opportunities will always be something that our organization looks to provide' claims Mr. Herath. 'Our organization always seeks new and creative ways to reach out to the general student body to promote study abroad opportunities and scholarships. We deliver comprehensive solutions with a careful understanding of students' needs and aspirations of moving ahead in education and life.'
Progressive Academy (PA) is one of the fastest emerging companies exclusively specializing in overseas education services. PA offers a broad portfolio of excellently managed services right from pre-admission to post landing services tailored to the needs of each and every student seeking overseas education.
Thanks to the vision and untiring efforts of Mr. Janaka Herath, PA's unique business model is providing one-stop solutions and services to make students' transition in a new land, completely hassle-free.
For more information on study abroad programmes, you can now call Progressive Academy (Pvt) Ltd at No. 123, New Baseline Road, Col 5. Contact No.: 2514026 / 0773-057305, Website: www.progressiveacademy.net