The Management & Science University (MSU) is one of Malaysia's top universities. It provides specialised programmes of studies in the areas of medicine, health sciences, business, management, information sciences, engineering, education and hospitality.
MSU gives priority to quality education and the importance of creative teaching methodologies towards producing quality graduates. Besides incorporating international exposure in the students' learning experience, extensive industrial training components are also blended into the programme of study to ensure graduates' employability.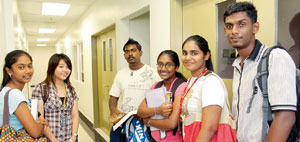 As one of Malaysia's top universities, MSU has received much recognition from the Malaysian and international independent bodies. It is rated as an "Excellent University" by the Ministry of Higher Education of Malaysia through a rating system done on all Malaysian universities. MSU is ranked one of the top five universities in the world through an accreditation exercise by the Accreditation Services for International Colleges (ASIC), UK. It is also ranked as one of Malaysia's top five private universities through an establishment audit done by Ernst & Young.
Faculty of Health and Life Sciences (FHLS)
FHLS offers 7 Bachelor's and 7 Diploma programmes which are highly focused towards the students meeting their career challenges or higher level educational goals.
The faculty currently offers Bachelor's and Diploma programmes majoring in a wide area of interest. Among them are Biomedical Science, Food Service Technology, Bioinformatics, Optometry, Traditional Chinese Medicine, Nutrition, Forensic Science, Nursing, Medical Laboratory Technology, Medical Assistant, Occupational Safety & Health, Science (Good Manufacturing Practice) and Diagnostic Imaging (Radiography). These specializations are enriched with industry relevance components towards ensuring their compatibility.
Faculty of Business Management & Professional Studies (FBMP)
The mission of the faculty is to provide a quality broad-based, continuously evolving and internationally recognized undergraduate business education.
The faculty currently offers 17 Bachelor's and 12 Diploma programmes. The programmes offered are International Business, Decision Science, Hospitality Management-Tourism, Accountancy, Industrial Management, Investment Management, Education (TESL), Law and Commerce, Event Management, Human Capital Management, Retail Management, Finance, Management (Public Relations and Entertainment), Early Childhood Education, Counselling and Guidance, Retail Management and Culinary Arts.
Faculty of Information Sciences & Engineering (FISE)
FISE's forte in the information sciences and engineering has seen diversifications as the demand of technology becomes increasingly prevalent across disciplines. The inclusion of computer forensic, e-commerce, business computing, systems auditing, games design and animation in the programmes of study offered by FISE is a bold attempt by the faculty to meet the contemporary needs.
FISE currently offers 14 Bachelor's and 10 Diploma programmes. Among them are Computer Science, Information and Communication Technology, Computer Engineering, Business Computing, Graphic Design, Information Systems Auditing, Games Design and Animation, Electrical and Electronic Engineering, Instructional Multimedia, Computer Forensic, Mobile & Wireless Technology, Media Sciences, Communication Design and Marketing, Creative Multimedia, Information Technology, Computer Engineering, e-Commerce and Multimedia.
The MBBS programme is offered through the International Medical School (IMS) at the MSU main campus in Shah Alam. Alternatively, students may opt to pursue the programme at MSU's offshore campus in Bangalore, India. The setting-up of IMS is an illustration of MSU's commitment at offering the critical and relevant programmes of study particularly in the areas of health and medical sciences. IMS focuses solely on the Bachelor of Surgery and Bachelor of Medicine (MBBS) programmes. Other programmes offered at IMS are Bachelor's and diploma programmes in the area of Medical Sciences.
The School of Pharmacy aims to create, transmit and apply new knowledge based on cutting edge research in the pharmaceutical, social and clinical sciences. The school offers both Bachelor's and Diploma level of studies.
Also available are four (4) Foundation programmes namely Foundation in Information Technology & Engineering, Foundation in Business, Foundation in Law and Foundation (Science Biology/Health Science) offered through the Centre for Foundation Studies (CFS). The one-year pre-university or foundation course provides students with options for continuity in the specialized field of degree studies at MSU.
The Graduate School of Management (GSM) and the School of Graduate Studies (SGS) offer a great range of programmes for working adults through Postgraduate Certificate and Diploma, MBA, MSc, DBA and PhDs levels covering the wide areas of health sciences, information and communication technology, business and management for those who wish to enrich their academic qualification.
The recognition of any academic institution of higher learning lies on the strength of its programmes and faculty members. While ensuring the requirements of academically qualified faculty members are being met, MSU further fortifies its brand image through the deployment of international visiting professors and institutional collaborations.
A global exposure via MSU's International Students Exchange Programme (ISEP) unit will further strengthen the graduate employability factor. Through this unit students have the options of transferring their final year studies at foreign universities which are partners of MSU. There are over 40 universities in USA, UK, Australia, Japan, South Africa, India, Eastern Europe, Indonesia and New Zealand for selection. The opportunity for continuing education at these universities provides a blend of valuable international exposure to the students.
It is concerned with a holistic student development through the incorporation of 5 major components across all curriculums. These components are; language, information technology, entrepreneurship, soft-skills, ethics and values. Until now, MSU graduates remain a popular choice among employers. A graduate tracer study conducted every year shows a ninety five per cent employability rate of graduates entering the working environment. This has, to a large extent, demonstrated the versatility of our programmes of study pursued by these students at MSU.
Students from Sri Lanka will now have the opportunity to savour MSU's quality education through its Colombo Campus. Visit MSU Colombo Campus at 371, R.A. De Mel Mawatha, Colombo 3 or call 257 6900/ 257 6644/ 257 6700/ 257 7266 for further enquiries or visit www.msu.edu.lk.