The increasing links being forged with different regions in the world in all realms or life have yielded many benefits to the world community as a whole. At the same time, it is undisputed that the phenomenon of globalization is also responsible for creating its own idiosyncratic set of problems applicable at the global scale.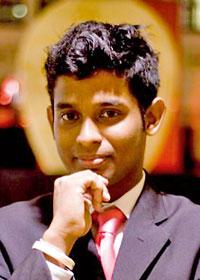 Yohan Senerath
The sheer expansive nature of these issues, which transcends borders, has demanded the international community to endorse a multilateral approach to effectively cater to them.
Unfortunately gamering an international consensus on a set of solutions to address a global issue is of unimaginable difficulty considering the differing and inevitably contradicting interests of sovereign nations. Arguably, the primary function of the United Nations is to cater to exactly this shortcoming; providing a platform for sovereign nations to converge and hammer out agreements that agree on actions at the multilateral level. Whether it is effective or not is another issue altogether.
The Model UN concept has been embraced worldwide stretching from the Harvard and Yale Model United Nation Conferences in the United States to our very own Colombo operated Model UN Conference and Sri Lanka Model United Nations.
The Yale Security Council simulation gives more emphasis to this particular issue more than other Model UN conferences. Unlike the traditional large General Assembly Committees in Model UN Conferences, the Yale Conference consists of 18 small committees not numbering more than 25 delegates, each operating on a crisis basis. Some examples of the committee were the Fatah Hamas Peace Negotiations, G20 summit of the World Leaders, Pepsi Corporation Executive Board, Joint Cabinet Crisis Pakistan and Indian Cabinets 2020. Each of these committees are presented with emergencies created by crisis teams and the delegates in these committees are responsible for solving them. At the same time the solutions that they devise in turn are likely to have other consequences. An example of a crisis faced by the Pepsi executive board would be responding with a strategy to be a new product devised by Coca Cola.
Thirty four universities attended the conference which consisted of several universities from China, Mexico, Canada and Turkey in addition to the US schools. The conference was contested by leading universities in the United Sates like Harvard, Stanford, Brown, Cornell, Columbia and West Point Military Academy. Yohan Senerath, a Sri Lankan student attending Clark University on a scholarship was awarded the "Outstanding Delegate Award" in the Pakistani Crisis Cabinet 2020 role playing the role of the State Bank Governor of Pakistan. His committee and Yohan were entrusted with ensuring Pakistan's sovereignty and territorial integrity while facing a bellicose India, turmoil in Kashmir, West funded separatists operating in Balochistan and Afghanistan and solve economic problems as a result of storages in foreign currency reserves.
Yohan is currently an active participant in the Clark Model UN team.