The world is driven by science and technology and all nations desirous of attaining high economic growth should be ready to be a partner of the emerging high tech world, says former Deputy of Central Bank of Sri Lanka at a function organised to felicitate the four students who had got the highest marks at the GCE (AL) examination in Arts, Commerce, Mathematics and Biology streams and the respective schools which supported their march toward excellence.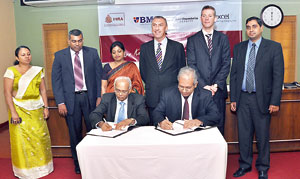 Accordingly, Ms Aloka Wanamalee Anthony of Kuliyapitiya Central College was felicitated for attaining the highest marks in Commerce, Mr Dasun Upamal Kalugala of Pinnawala National College in Bioscience, Mr Viduranga Bandara Wijekoon of Royal College in Mathematics and Ms Shalomi Daniel of Ladies' College in Arts.The function was organised by BMS, Sri Lanka's quality British education provider, Northumbria University of UK and the UK Trade & Investment section of British High Commission.
Mr. Wijewardena, addressing the gathering, said that Sri Lanka, after the end of the 30 year long war, was now in a fitting position to take off economically, socially and culturally. However, one of the important pillars of attaining high economic growth on a sustainable basis was the country's exposure to advancements in science and technology. In this respect, the foresight shown by Singaporean authorities at the turn of the new millennium is an eye opener to many countries including Sri Lanka.
Mr. Wijewardena said Singapore's leaders had identified four areas of science and technology in which the country should excel in the coming century because these four areas were its gateway to join the economic giants and thereby sustain its development. The four areas were, genetic engineering, information and communication technology or ICT, nano technology and entertainment. At that time, USA and UK were leading in these four areas and it was those countries which had advanced in them that would be the future world leaders. So, by equipping its workforce with these new technologies, Singapore wanted to be a partner of global leadership.
According to Mr. Wijewardena, genetic engineering will help the world to feed its ever growing population by producing more food per hectare and develop new drugs and engineer body parts to treat rare diseases. ICT will revolutionise the way people conduct business, manufacture goods and govern countries. Nano technology, a new area where machines in the size of one billionth of a metre produced, will help the world to develop alternative energy, use in medical applications and military affairs and manufacture more flexible, lighter and stronger materials. Entertainment, being the final consumption good will provide the largest market to whoever will excel in the field. So, Wijewardena's final advice was that Sri Lanka should be ready to embrace the advanced science and technology and be a partner of the future global development.