The Interact Club is a service Oriented Organization. Its aim is "Service before self". Mahatma Gandhi said "You must be the change you wish to see in the world". The Interact Club provides you with the opportunity of making this change. It is all about community service, giving to those who are in need, being a part of change that brings happiness to you and much more to others. The Installation Ceremony of the Office Bearers of the Interact Club of Wycherley for the Academic year 2010-2011 was held during the end of last year at the High School Campus on Queen's Road.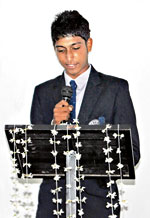 Wycherley was fortunate to have Mr. Pradeep Amirthanayagam - who is the President of the Rotary Club of Colombo West as the Chief Guest. He is a well known Media Personality as well as a distinguished Marketer. The sponsoring Club of the Wycherley Interact Club is the Rotary Club of Colombo West. We also had the District Secretary Ms. Arthraja De Silva, Mr.Roshan Perera Director Youth Services of the Rotary Club of Colombo West along with 2 other District Committee Members. Invited guests were from the Interact Clubs of Issipathana College, Colombo 5 and Royal College, Colombo 7.In this whole spectrum of service, the School sector is the Interact club, which is the younger arm of the Rotary Club.
With guidance and support from the Rotary Club of Colombo West and the dynamic guidance of Mrs. Shaleeka Abeygunasekera, Wycherley Interact Club moves forward with courage. The event began with the lighting of the oil lamp, followed by the Interact Pledge and Invocation, Addresses, Installation, Pinning of Badges and ended with refreshments and Interaction.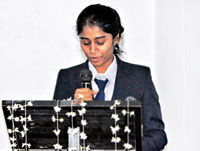 The Interact club so far has participated in the Toastmasters Workshop organized by the Rotary Club of Colombo West, which was held at Wycherley on September 25 2010. They also are going to work on an IDP Awareness Seminar for Interaction. A "School Walk" in support of a global/national cause. A health and a skills camp in the North for IDP children.
A visit to the North with Unity Mission where Wycherley interactors will work as Volunteers at the Health Camp and to crown it all an Inter - Interactors Basketball Tournament in February 2011. The interact club helps members to make new friends, participate in work oriented programmes, improve leadership skills, enhance knowledge and understanding of the outside world and updates students to excel in their education. This is plainly what WYCHERLEY aims at making her students realize.