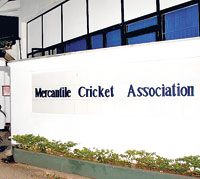 The MCA headquarters. Pic by Sanka Vidanagama.
Several junior cricketers, representing a number of cricket schools and clubs, will compete for the Mercantile Cricket Association's (MCA) Invitational Junior Cricket tournament from August 15 to September 5 at a series of venues throughout Colombo.
Competition will be played in only the Under 13 and Under 15 age categories, with 21 Under 13 teams and 18 Under 15 teams being divided into three groups, A,B and C. Some of the participants are the CCC School of Cricket (SC), Roy Dias SC, MCA and SSC.
A few of the venues that will stage the 100 plus matches will be Thurstan College, St. Benedict's College, Shalika grounds and the MCA grounds.
The different teams, competing for the Avi trophy, will be watched closely by the match umpires to ensure that they do not exceed the allotted number of overs for the day, as the organizers will be hoping to stick to a strict schedule of two matches per playing day.