No major shocks were on cards on the very first day of the Inter club sevens worked off at Longden Place yesterday. Only note worthy incident was that Galle RFC beating the depleted CH & FC "A" .What ever said and done the tournament somewhat lacked its sheen as the champion Kandy Sports Club pulling out of the tournament due to none payment of their expenses for the tournament which was paid on earlier years by the governing body Sri Lanka Rugby Football Union (SLRFU)
Today the games will be kicked off at 9.00 am with knock out punches.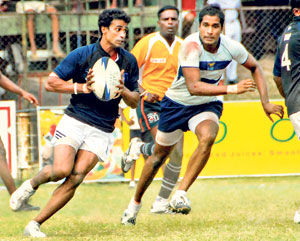 One of the Navy Seven players in attacking style against Airforce. Navy beat Airforce 26 Points to 7 points
Milinida Jayasinghe and Radika Hettiarachchi (Both from Air Force), Yoshitha Rajapaksa Suranga Pushpakumara, Eranda Weerakody (all from Navy) and Viswamithra Jayasinghe (CR & FC) were outstanding.
Imthisam Marikkar the sevens national coach said that he was disappointed not to see the Kandy SC players. He said it is up to the SLRFU and their selectors to give the best side. He ended by saying that the Kandy players such as Fazil Marija, Saliya Kumara, Sanjeewa Jayasinghe, Sajith Saranga, Chamara Vithanage and Mohamed Sheriff are too good to be missed.
Ronny Ibrahim coach of the Navy SC said that the side for the national sevens should be selected from this tournament. He was sad that the Kandy management is killing the future of Sri Lankan rugby and its players.
Cup Quarter Final line up as follows
CR & FC "A" vs Navy "B"
Army "A" vs Police "A"
Air Force "A" vs Air Force "B"
Navy "A" vs CR & FC "B"
Meanwhile the division 2 segment took place at the Royal Sports Complex
Quarter final line up as follows
Air force Migs vs Petersons SC
Army C vs Moratuwa University
Air Force Chipmunks vs Navy KKS
Kotalawela Def Academy "A" vs Rajarata