The Indians and Pakistani's had no choice but to look on in awe and join in the famed "go Thora go" chant at the recently concluded ASRA (Asian Schools Rowing Association) international regatta as the boys from Mount Lavinia rowed their way into the regatta's history books by clinching the Junior Boys challenge trophy, the Senior boys challenge Trophy as well as the over all Boys challenge trophy. This is the first time that a single country, let alone a single institution have managed to claim all three trophies with such a masterful performance.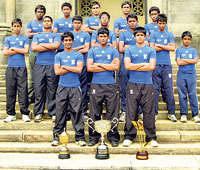 The Thomian rowing squad
This feat was achieved by beating a total of fifty two schools from countries such as India, Pakistan, Abu Dhabi and Japan. The crew headed by Captain Sajeev De Silva and Vice Captain Amrick Varia bagged a total of 5 gold medals with an additional 6 bronze medals to establish their dominance. Sajeev De Silva lead from the front by winning 2 of the 5 gold medals that ensured STC the overall win. He is the same oarsman who holds the record for most amount of gold's won at a single Sri Lanka national which stands at a total of 7 gold medals which he achieved in 2009.
The under 15 Thomians played their part as well by winning the main fours event which gave their crew five gold medals and assured the Junior boys category win for the school by the sea. A notable performance was made by Ramith Nanayakkara who won five out of six races which assured him a bronze medal final in the Junior Sculling category which was unfortunately lost due to an error in course.
He then stroked the junior four to its gold medal win with a vengeance to avenge his loss.
Five Thomians were also selected by the Colombo Rowing club to represent the club at the prestigious Madras - Colombo Regatta as the CRC "A" Four. This regatta with a history of 73 years is the 3rd longest regatta in the world after the world renowned Oxford Cambridge boat race and the Harvard Yale regatta.
The CRC Boat Race crew comprised of Sajeev De Silva (19), Amrick Varia (19), Chamal Jayanetti (17), Shelan De Livera (17) and Sajin De Livera (16). This incidentally is the youngest group of oarsmen to row in the Madras Colombo Boat race.