Sri Lanka's latest wheelchair tennis hero is Sunil Perera who was injured during the war to safeguard the sovereignty of the country. He won the Men's Second Draw Singles at the British Open Super Series Wheelchair Tennis Championships 2010 held from July 20 to 25 in Nottingham.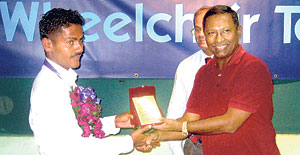 Suresh Subramanium (right) presenting a plaque to Sunil Perera at the felicitation ceremony
Perera was felicitated in a simple ceremony by the Sri Lanka Tennis Association (SLTA) at the headquarters. This ceremony was held in appreciation of Perera's achievement and winning a small portion of the total prize money of US$ 35,000.
Suresh Subramaniam, who was the president of SLTA when wheelchair tennis was re-started in 2002 said that the soldiers who lost one of their limbs are very committed, dedicated and willing to learn more about the game during training sessions.
Subramaniam said that when he re-started only two players came for lessons and the SLTA committee did not approve the idea. However, with the help of General Jayantha Ranaweera they managed to invite the disabled soldiers who came in huge numbers to learn their new sport.
Maxwell de Silva, the current president of the SLTA said that tennis is the only sport that is currently supporting the injured soldiers pursue with an ambitions sporting career.
"They now have something to look forward to even after their career as a soldier and now confined to office work. I hope that other sports too will offer these soldiers pursue with a sporting career and bring honour to the country," added de Silva.