Skipper of the Sri Lanka team Heshan Unamboowe will one of the first participants to splash off when he contests in the 100 meters Backstroke event at the first ever Youth Olympic Games in Singapore today.
The tall swimmer from Kandy was in a joyous mood when he said that he will do his best at the meet. The next to go into action will be the Table Tennis players – Hasintha Sashiranga and Nuwani Navodya – both from Dharmasoka College Ambalangoda. The players are accompanied by their coach Chathura Dushan, who said that they are in top shape.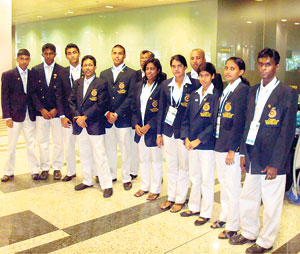 Unamboowe first to splash off at YOG
The Sri Lanka team consisting of seven participants and five officials touched down at the Changi Airport in Singapore on schedule on board a Singapore Airlines flight. The team seemed to be in good spirits.
Nishantha Piyasena, the Chef De Mission of the team said that before the team took off a grand reception was held at the National Olympic Committee Office in Colombo where the Minister of Sports C.B. Ratnayake and Ministers Jeevan Kumaratunga and Duminda De Silva were present. He presented me with a first day cover of a Rs. 10 stamp which was launched on August 12, designed by Sanath Rohana Wickremasinghe.
"The encouragement we got from the Government and all concerned was terrific," said Nishantha Piyasena. The team took part in a glittering opening ceremony at the Marina Bay in Singapore yesterday where Singaporean pop stars entertained the audience. The opening ceremony was followed by a grand fire-works display.
For the next two weeks the YOG will hold sway in Singapore and even the YOG's Youth Ambassadors sprinter Usain Bolt, swimmer Michael Phelps and pole vaulter Yelena Isinbayeva of Russia will be present to speak and encourage the athletes.
Earlier Jacques Roguesz, the President of the International Olympic Committee sent a message stating that the staging of such an event (for athletes between the ages of 12 to 14) is certain to draw them away from computer games and the TV to the athletic field.
The Singapore 2010 Youth Olympic Games aims to inspire youth around the world to embrace, anybody and express the Olympic values of Excellence, Friendship and Respect. Already 3,600 athletes between the ages 14 and 18 years of age of 205 different countries are in Singapore to take part in 26 different sports and culture programmes.