Most consider the fast paced, gritty and oftentimes dangerous world of motorcycle racing a landscape suited only for tough, battle hardened adults. However eight year old Jaden Gunawardena constantly weakens that argument every time he surpasses men on the race course, who are more than a decade older than him.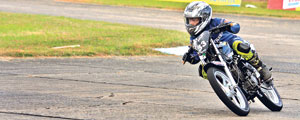 Jayden negotiating a sharp turn.
Jaden currently competes in the 125cc category and in his most recent tournament, at the Kutukurunda circuit, he laid waste to a number of senior riders before coming in second behind S.D Weerasinghe. His other recent successes came at Mirigama, where he won both the under 16 and open categories, and a third place finish at the open event in Pannala.
On the strength of these performances Jaden was selected to represent Sri Lanka against other Asian riders in upcoming competitions. Jaden's father, Shane Gunawardena, who also functions as his son's coach and trainer, was once a motorbike rider himself, competing professionally from the early eighties and racking up roughly over 600 trophies. He says now that Jaden is fully involved in the sport he feels that his days on the course are gradually coming to an end.
"At most competitions I am totally focused on how Jaden performs so after helping him out for most of the day it's difficult for me to refocus on my own performance," Shane explains. Shane put Jaden on his first bike when he was just two years old and from there he developed his skills to a level where Shane felt comfortable entering him in open competitions. By the age of five he had graduated to riding 65cc bikes in under 13 junior class events.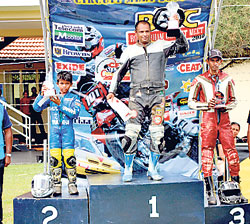 Jayden came second at the meet at Kutukurunda.
"He started competing in road races only at the beginning of this year. Until that point he only raced in Motocross events. Motocross uses dirt tracks which are rutted and uneven while road races are conducted on smooth tarred tracks which are better for him," Shane reveals. Since then Jaden has been moving from strength to strength and Shane credits this progress to a disciplined training regimen and his son's natural ability.
"I am always shocked by his concentration and endurance when he is on a bike. He will ride about 20 rounds in training and at the end of it he will be full of energy, waiting to do 20 more," Shane says.
Jaden's seven-year-old brother, Aaron, has also followed in his father's footsteps by competing in major bike racing tournaments. He too shows the same inborn potential that Jaden is blessed with and has had podium finishes in Pannala, where he came second in the under 16 age group, and in Meerigama where he finished fourth.
The two of them used to practice together but they would frequently collide with each other because each one wanted to cut across the other while racing. Shane is quick to point out that Aaron is just as skilled a rider as Jaden is however he lacks his brother's composure. "Most of what Aaron has learned about bikes and racing has been conveyed to him while I was teaching Jaden so I have not really had the time to properly coach him. Right now I am just taking them one at a time, once I am satisfied with Jaden's progress then I can turn my attention to Aaron," Shane reveals.
Shane is also the current secretary of the Federation of Motorcycle Sports in Sri Lanka and in that capacity requests parents of other potentially gifted riders to encourage their children to take to the sport.
"If a seven and eight year old can be successful just imagine the number of other talented bikers in the country. I think parents should tell their kids to take to the sport at an early age because by the time they are 17 or 18 it's too late for them."