Udeni Kiridena a name synonymous in the boxing fraternity has done Sri Lanka proud with his elevation by Amateur International Boxing Association (AIBA) as a three star international boxing referee and judge.
According to sources Kiridena's appointment is an honour as he is one among the 16 Asian international boxing referees to hold this designation. Udeni an old boy of Trinity began his boxing career at the tender age of eleven back in 1977.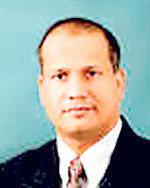 Udeni Kiridena
Following in his father's footsteps he won a title in his very first meet by taking the Central province pinweight title. The sport remained a continued passion for Udeni who went from strength to strength and in the long run it served him well which saw him reach the highest rungs of the sport. He underwent training under one of the exponents in boxing the evergreen Donald Munasinghe who he regards as his guru.
Udeni received the coveted Lion at Trinity in 1982 and went on to lead the Trinity boxing team in 1983. Under his leadership Trinity bagged the Stubbs Shield after a lapse of three decades and went on to win the T.B. Jayah Cup, the junior nationals which culminated in him winning the Sri Lanka school colours.
After he hung his gloves ups Udeni got involved with the administration of ABA. His first stint was with Boxing Referee and Judge Association where he served as the treasurer for a period of five years. He later served the AIBA as its assistant secretary and vice president and finally as the president of the Amateur Boxing of Sri Lanka for two years until 2010.
In between this period he was appointed as a national level referee in 1983 and had the honour of being appointed as a referee and judge in the Asian boxing arena by obtaining top marks in 2002.
He was subsequently selected as a AIBA judge in 2006 and rose to the level of a three star status referee and judge of AIBA this year enabling him to officiate in international tournaments around the world.
In his illustrious career as a boxing referee and judge Udeni has officiated boxing tournaments around the world including Olympic trials in the Philippines and Kazakhastan, Kings Cup In Thailand, President's Cup in Indonesia, Commonwealth Games in England, Commonwealth Youth Games in India, Asian Championships in China and China Open to name a few. In his new found status as a Three Star International Boxing Referee, Udeni is set to feature prominently in the international boxing arena in the future.