Though it is quite sometime since I wrote an open letter to the President of Sri Lanka, I am compelled to write again as I observe that there is no sign of a settlement yet in the accusations exchanged between the government and Sarath Fonseka. Also I have read some responses to my letter in various media publications and this prompts me to emphasize again that it will be good for the country if this matter is settled peacefully without people trying to find fault with and blame each other.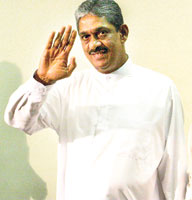 Rtd. General Sarath Fonseka
In conducting the war, as the Army Commander, Sarath committed himself fully to perform his duty to utmost perfection. In doing so he believed he was also doing a virtuous deed by destroying terrorism and thereby stopping the wanton, meaningless destruction of human lives. In fact, in March 2008 when I once told him that he should also start taking religious matters more and more seriously, he asked me "Destroying 'Tigers' is a meritorious act, isn't it?" Though I could not give a definite answer I indicated that it may not be just that simple but it would be necessary to consider the consequences according to the Dhamma and spend some time for spiritual development.
I think he firmly believed he was doing the correct thing by working with full commitment to see an end to the war. While taking a firm stance in motivating the soldiers and enforcing discipline in the army, he also had to live with the painful knowledge of the dangers his personnel had to face in the battlefield.
But it was his duty to fight the war to a finish and liberate the country from terrorism. This seems to be the destiny he was born with. He was born to liberate the country one day! His tough determination when it comes to war is best illustrated by a phrase well known amongst the military ranks, even long before Sarath became the Commander: "Issarahin Johnny, pitipassen Fonny!" which translates as "Johnny (land mines) in front, Fonny behind!" This is ample evidence as to his uniqueness as the Commander who would eventually win the long overdrawn war with the 'Tigers'.
Sri Lankans should never forget the depth in that subtle saying, "Devils rush where Angels fear to tread" ¯ which has been proven beyond doubt by Sarath and his brave soldiers. From what I have seen and heard, I believe he trusted that it was also his duty to look after the welfare of injured soldiers and their families and the welfare of the families of the soldiers who had sacrificed their lives, as all those soldiers went forward on his orders and motivation. This unfortunately is a duty that he could not fulfil as he wished due to his premature retirement.
He carried out his duty with total determination and facing whatever Kamma that is associated with conducting warfare. He alone faces the Karmic consequences associated with his duties. Whilst he was shouldering those responsibilities, most of us were doing our day to day errands and had no danger of any such Karmic consequences. It is hard to imagine how the people who were living in Sri Lanka with eternal bomb threats and fear of terrorists, but are now living without fear, can forget all that so quickly or ignore the plight of a hero who brought that relief for them. Even if everything he did or said subsequently is not to everyone's liking (which is a common feature in politics) it should be easy to forget any such things considering the service he did for the country.
Learned leaders of the country should be able to resort to discussion to iron out any differences and misunderstandings. They should think back of the times they worked together and of what was done to help each other. I sincerely wish that both Sarath and his former colleagues would follow this path of peaceful discussion instead of taking a revengeful, belligerent approach.
I read many comments made in response to my open letter which was published sometime back, some supporting my views and some against. While thanking everyone who has taken time to read and also those who wrote responses, it is not my wish to engage in counter comments as everyone is free to express their views. I only want to help in reaching a settlement for the good of our beloved motherland. Naturally, I am looking forward to see my brother becoming the free person that he deserves to be and serving the country in whatever capacity he can for as long as he is able to do so.
Sri Lankans can pay their gratitude by helping him and others who committed themselves to liberate the country to forget animosity towards each other. If people can stop trying to find fault with one side or the other all the time, that will help the country to get out of unnecessary allegations. The war was fought with an enemy who resorted to meanest ways such as, suicide bombings etc.
As such it should not be a problem to defend the way the war was fought by the Sri Lankan government, if those who conducted the war try to overcome the allegations together without fighting amongst themselves ¯ it is precisely here that I can mediate as Sarath's elder brother and contribute towards the country's welfare, before it is too late.
The writer is the brother of (Rtd.) Gen. Sarath Fonseka. He lives in Melbourne, Australia.