The crisis in the Maldives has worsened with President Mohamed Nasheed ordering the arrest of an outspoken opposition leader, Abdullah Yamin, and his detention in an island across the channel from Male.
Mr. Yamin had earlier been released from house arrest by order of the Supreme Court, which dismissed corruption charges against him. The Supreme Court also released Gasim Ibrahim, leader of the Jumhoori Party. However, deputy speaker Ahmed Nazim is still under house arrest while charges of corruption are being probed.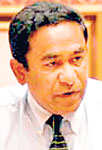 Abdullah Yamin
The four-party opposition alliance comprising the Dhivehi Rayyithunge Party (DRP), People's Alliance, Jumhoori Party and Qawmi Party, has accused President Nasheed of persecuting opposition leaders and MPs in the face of plummeting public support for him as the Maldivian political crisis continues unabated for nearly a month now.
The six-member joint committee of the Majlis (Parliament) -- three from the Government and three from the Opposition that was to be appointed following Sri Lankan President Mahinda Rajapaksa's visit last week on a mediation mission – has still not been set up. This committee was intended to begin a dialogue between the President and parliament controlled by the opposition.
The main opposition DRP leader Ahmed Thasmeen has accused President Nasheed of violating the constitution and silencing his critics. Mr. Thasmeen said his party would do whatever necessary to prevent Mr. Nasheed from becoming a dictator.
For three consecutive nights mobs have gathered near the homes of High Court and Criminal Court judges in an attempt to force them to rule in the government's favour in the cases of the so-called corruption charges against opposition leaders and MPs.
President Nasheed remained unfazed. He said on Friday he would "arrest and incarcerate as many people as it takes", to carry on his campaign against corruption "whatever the consequences".
The police and the Maldivian National Defence Force (MNDF) announced at a joint news conference on Thursday they would launch a campaign to wipe out street violence. They said they would be checking vehicles and raiding houses to arrest any trouble makers. Opposition analysts say most Maldivians are sceptical about the announcement by the security forces. They believe it is a move to instil fear and prevent the opposition from staging demonstrations.
They said it was ironic that a man who had won the country's first multi-party presidential election on a pro-democracy agenda, would turn out in just 20 months' to be "a dictator".