The Colombo High Court has been directed by the Court of Appeal to proceed with the inquiry against former Deputy Defence Minister Gen. Anurudda Ratwatte on his accumulation of Rs. 40 million in Certificates of Deposits (CDs).
The Court of Appeal on Wednesday allowed an appeal by the Commission to Investigate Allegations of Bribery and Corruption asking to set aside an earlier order of the Colombo High Court to discharge Gen. Ratwatte.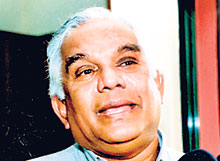 Anurudda Ratwatte
In November 2007 the Colombo High Court dismissed the bribery case against Gen. Ratwatte after it upheld preliminary objections by his counsel that the Bribery Commission should give a person an opportunity to show cause as to why he should not be prosecuted for such an offence and then should issue a certificate stating either that the person has failed to show cause or the explanation is unsatisfactory in the opinion of the Bribery Commission.
Delivering the judgment, Justice D.S.C. Lecamwasam with Justice W.L.R. Silva agreeing held that the Bribery Commission is not bound to issue a certificate or a letter of dissatisfaction and stated that the institution of an action in the High Court is proof of such dissatisfaction.
Justice Lecamwasam stated that the defence had taken two preliminary objections in the High Court, in that the prosecution failed to satisfy two conditions embodied in the Bribery Act and moved Court to discharge the accused.
Gen. Ratwatte was charged by the Bribery and Corruption Commission after the CID raided his personal vault at a private bank in Colombo and found Rs. 40 million in Certificates of Deposit.
The Commission held a preliminary inquiry and was dissatisfied with the explanation given by Gen.Ratwatte on the source of this money. The Commission said that the politician collected these monies illegally during the period 1994-2002. He was an MP from the Kandy district, Deputy Minister of Defence and Minister of Power and Energy at the time.
Deputy Solicitor General Jayantha Jayasooriya appeared for the Attorney General. President's Counsel Rienzie Arsakuleratne with Wasantha Batagoda appeared for the former Deputy Defence Minister.